From the May 2019 issue of HealthCare Business News magazine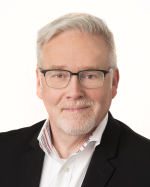 I believe the future of healthcare is dependent upon suppliers and providers collaborating on the technology and the means to safely, efficiently, and affordably deploy it to the correct patient population. While costs like cybersecurity and continuous upgrades should not be onerous burdens carried by providers, suppliers who create differentiated value creation over many years must find a way to benefit, short of overpricing and monopolizing service and support. We are all consumers of healthcare, if those of us who practice in the industry every day cannot challenge the barriers preventing us from lowering the overall cost, who then do we look toward?
About the author: Patrick Flaherty is the vice president of operations for BioTronics at the University of Pittsburgh Medical Center.
Back to HCB News

Quest Imaging Solutions provides all major brands of surgical c-arms (new and refurbished) and carries a large inventory for purchase or rent. With over 20 years in the medical equipment business we can help you fulfill your equipment needs