por
Sean Ruck
, Contributing Editor | May 31, 2019
From the May 2019 issue of HealthCare Business News magazine
There's an organization called Vizient. Within it, there's a consortium of all the large academic medical centers within the United States. We all share data based on a range of categories, and we consistently are in their top group. When Medicare asks patients the questions "would you recommend this hospital?" our hospital gets the best scores in the city.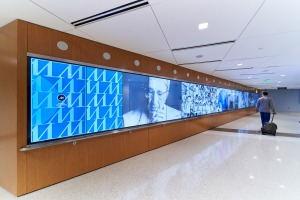 HCB News: What is the biggest challenge your hospital faces?
MB:
I think that providing healthcare is such a calling and a privilege, nothing's hard. It's more the challenge of how to take it to the next level. How do we get even better? How do we provide better care for our patients? We want to be sure we're the best institution for our patients' care. We attract patients from over 90 countries for care. From every state. Accommodating them and making sure they have a great experience is really what we're all about.

Numed, a well established company in business since 1975 provides a wide range of service options including time & material service, PM only contracts, full service contracts, labor only contracts & system relocation. Call 800 96 Numed for more info.

I think all of healthcare, honestly, struggles with access and coordination. We're working very hard using technology and innovation to tackle those specific issues that are key to transforming the patient experience.
HCB News: What's the next big opportunity Houston Methodist is working on?
MB:
This past year, we created a center for innovation. We feel like technology, not medical devices and medical technology (where we already have a great focus), but digital technology like apps and the internet are where we need greater focus. We really feel they're at an inflection point in being able to transform the patient's journey and care. How can we take that and coordinate access, care, facilitate care, make the experience of being a patient or potential patient better than it is today?
The second big area is what we're affectionately calling "The Big Idea". After about a century of advances in modern medicine that really focused on treating and in some cases eradicating disease, we've made tremendous progress. The next century is going to be about extending life span, extending health span. That's really a major area of focus for our research enterprise, and what we call our clinical translations, which is where we determine how we take research to the patient rapidly.