por
John R. Fischer
, Senior Reporter | April 01, 2019
From the April 2019 issue of HealthCare Business News magazine
Necessaries and nice-to-haves
At Rush University Medical Center, the decision to invest in a premium Canon ultrasound system came down to one quality in particular: 3D visualization. "I have been following 3D imaging, which includes strain imaging and contrast ultrasound, for years," said Feinstein. "I've studied Canon's preclinical work in 3D, and appreciate its advances in 3D cardiac transthoracic imaging."
Knowing what you want is crucial in the ultrasound market.

1st FDA Approved Handheld Wireless Ultrasound Probe.Currently being used to fight COVID-19 in Wuhan China, South Korea, & within the USA.Features include Lung Ultrasound Scanning, & PACS Compatibility. ( CONTACT US TODAY TO RESERVE INVENTORY )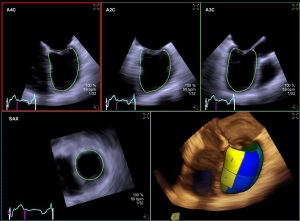 "Cardiologists are looking for ultrasound systems that fit their specific needs, and there are a variety of platforms that offer different levels of features," said Connie Casey, marketing manager for cardiovascular ultrasound at Hitachi Healthcare America. "With that said, any level should offer good image quality, be easy to use, have good workflow and offer any available applications that may be required for the provider's specific needs."
Above all else, experts agree that good image quality should be the top priority when entering the cardiac ultrasound market. In relation to this, many say that protocols and automated measurements for speeding up the rate of capture for images are also essential.
"A typical cardiac ultrasound exam is going to be around 100 images and clips of the beating heart. With that, there are many measurements," said Michael Elroy, senior manager, solutions marketing for ultrasound at Canon Medical Systems USA. "Protocols to accelerate updating from view-to-view in terms of image capture are helpful and measurements that can be made automatically will help speed up the exam because there are so many images to be captured."
Other value-added specs might include high-frame rate for good resolution, high penetration, 3D imaging, the wireless transmission of patient data to systems, and the ability to connect patients to EEG, among others.
But figuring out which extra features are needed in a solution depends on the environment and workflow of cardiologists and clinicians. Fortunately, as technology advances, greater capabilities tend to trickle down into lower cost systems.