por
Lauren Dubinsky
, Senior Reporter | November 06, 2018
From the November 2018 issue of HealthCare Business News magazine
Last year, market research publication Kalorama Information predicted the CT market, which was already valued at nearly $5 billion globally, would be the fastest growing segment among all medical imaging systems.
New scanners on the market are providing higher image quality with faster acquisition time, driving demand among cardiology and oncology departments. The systems are being packaged with new and improved applications to simplify the exam process and radiation dose optimization technology to ensure patients are being imaged in the safest and most efficient ways possible.
"Most partial CT scans take just seconds, and a full scan of the entire body can be completed in about a half hour," said Bruce Carlson, publisher of Kalorama Information. "The CT scan can record images of bone, soft tissue and blood vessels simultaneously, offering advantages over standard X-rays."

Numed, a well established company in business since 1975 provides a wide range of service options including time & material service, PM only contracts, full service contracts, labor only contracts & system relocation. Call 800 96 Numed for more info.

As artificial intelligence (AI) gains ground in the medical imaging sector, CT systems are poised to do more with less. For Carlson, the convergence of machine learning and CT is one of several AI-related topics he plans to examine more thoroughly in the coming year.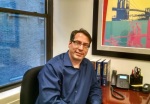 "Due to the digital and representative 'computed' nature of CT – [the fact that it's] not merely an image, but actually created from the imaging process – it lends itself to mathematical interpretation," he said. "After all, it is created by math, so it's logical to think a computer could read it as well as an eye."
Seeing results with AI
One company that has found early success forging inroads into AI with CT is Aidoc, an Israel-based startup that launched the world's first AI-powered full-body solution for CT analysis in February. The tool is designed to help radiologists identify medically significant abnormalities throughout the body including the head, c-spine, chest and abdomen.
Unlike on-demand solutions that clinicians have to access through a separate interface, the Aidoc system is readily available to highlight urgent cases as they enter a clinician's worklist.
"Our AI is always on in the background, ensuring that the radiologist gets the value directly in their work environment," said Elad Walach, CEO of Aidoc. "It really enhances the radiologist's peace of mind knowing we are there for them."