por
Lisa Chamoff
, Contributing Reporter | October 15, 2018
From the October 2018 issue of HealthCare Business News magazine
The scanners are specially designed for orthopedic practices, as they can plug into a regular wall outlet and don't need a fully lead-lined room.
"Extremity scanners don't require as much power as a full body CT," said Vinti Singh, the marketing manager for CurveBeam. "It's also convenient for patients, since they don't have to travel to a separate imaging center or hospital for a scan."

Numed, a well established company in business since 1975 provides a wide range of service options including time & material service, PM only contracts, full service contracts, labor only contracts & system relocation. Call 800 96 Numed for more info.

Some major medical centers have also purchased the scanner for their radiology departments because of the clinical advantage of standing exams.
"In a lot of lower extremity conditions, alignment is a very important aspect of understanding the condition," Singh said.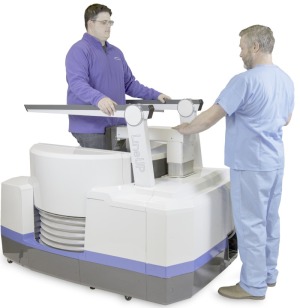 CurveBeam has also created a scanner for hand specialists, the InReach, which was FDA-cleared in May 2017. To use the scanner, the patient steps up to the scanner and places his or her hand inside a small gantry opening that is raised or lowered according to the patient's height.
CurveBeam's products provide an advantage, as X-ray has limitations when imaging the extremities, Singh said.
"The foot and the hand are really complicated parts of the body," Singh said. "It's hard to see overlapping bone structures clearly on an X-ray. Incorrect tube head positioning can distort the anatomy. With CT, you have an exact three-dimensional view, with no distortions or overlaps."
Singh said the next frontier for Curvebeam is a scanner that scans from the feet up to the hips, and the company's engineers are already at work on a design.
GE Healthcare
GE Healthcare's latest CT release is the Revolution Frontier, a 128-slice scanner designed to provide spectral imaging at a more affordable price, according to the company.
The Frontier, FDA-cleared before last year's RSNA, comes with a new tube and detector technology that improves overall image quality of spectral CT, said Scott Schubert, general manager of premium CT for GE Healthcare.
Peer reviewed papers looking at the Frontier technology show a 17 percent improvement in liver lesion characterization.
"That particular advantage means that 17 percent of your patients would not have to go to invasive follow-up testing," Schubert said.
The company also doubled the overall workflow and speed of reconstruction, utilizing a partnership with AI computing company NVIDIA, allowing for the completion of post processing in five minutes, according to Schubert.