From the July 2018 issue of HealthCare Business News magazine
Another advantage I gained by adopting DBT is an improvement in workflow. Due to the reduction of the number of diagnostic mammograms needed as a result of the technology, radiologists are able to offer more screening patients immediate results instead of their having to wait to receive a letter in the mail telling them their mammogram is normal. When patients are recalled for a possible abnormal finding on their screening mammogram, more often than not, they are first worked up with ultrasound. The 3D DBT images show so much detail that a diagnostic mammogram is often not necessary. Furthermore, even if a diagnostic mammogram is needed, often fewer images are required, which saves a lot of time for radiologists and patients. For stereotactic breast biopsies, I have found that with DBT it is much easier to target the lesion and therefore significantly reduce the procedure time, which satisfies the patients, technologists, and radiologists.
The way I see it, I always want to offer my patients the best possible care, and DBT allows just that. In an era when saving time, working efficiently, and maintaining high quality delivery of care are simultaneously at the top of our priority list, it should not be lost on anyone that DBT can help to achieve all of these goals at once with its superior accuracy. Not to mention, each day we're continuing to learn even more about the complexities of breast cancer, including that a woman's breast density classification can affect her screening outcome and breast cancer risk, making accuracy that much more critical to attain and perfect.

Numed, a well established company in business since 1975 provides a wide range of service options including time & material service, PM only contracts, full service contracts, labor only contracts & system relocation. Call 800 96 Numed for more info.

There is a lot more information for the radiologist to process on the DBT mammogram compared to the conventional 2D FFDM, but overall the learning curve for adoption is fairly quick and intuitive. In fact, in my experience, one of the greatest challenges with transitioning to DBT was not with the technology itself, but rather, working out how to charge for the exam. Initially, insurance companies did not reimburse for DBT, but fortunately, many insurance companies now do because its overall benefit to women has been established, and providing the service to patients does require a capital expense by the radiology practice. At Yale, even at the inception of DBT, we initially decided not to charge patients extra fees for DBT since we believed so strongly that all women should receive its many benefits despite their financial bracket. This is a true testament to the worth my colleagues and I place on this invaluable technology. DBT is a superior mammogram and there is no going back to 2D mammography alone.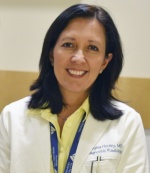 About the Author: Dr. Regina Hooley is an associate professor and vice chair for clinical affairs in the Department of Radiology and Biomedical Imaging at the Yale School of Medicine.
Back to HCB News