From the November 2017 issue of HealthCare Business News magazine
In the right place
Long-term strategic partnerships are familiar territory for Philips, including the recent 15-year, long-term agreement with Phoenix Children's Hospital this year – the first stand-alone children's health system to do so. Through this partnership, Philips and Phoenix Children's have built upon their pre-established clinical excellence in diagnostic imaging, patient monitoring and high standards of patient care for children.

Quest Imaging Solutions provides all major brands of surgical c-arms (new and refurbished) and carries a large inventory for purchase or rent. With over 20 years in the medical equipment business we can help you fulfill your equipment needs

A key milestone of this strategic partnership is the opening of Phoenix Children's emergency department (ED) and Level 1 Pediatric Trauma Center, which features a suite of connected technologies and solutions from Philips, providing clinicians with advanced imaging systems in computed tomography (CT), digital radiography and ultrasound. The new, $40 million, 42,000-square-foot ED represents the second pediatric hospital in the nation to provide critical imaging of traumatic injuries, tumors, vascular structures and infections with a single CT scan, allowing for earlier diagnosis and helping care providers refine their treatment strategy.
At the right time
Health technology providers and health care professionals are working toward the same goal: extending beyond the hospital to breaking the cycle of "sick care" vs. "health" care. This will require a new standard of seamless care achieved through connected technology for first-time-right diagnosis, getting patients to treatment faster, with improved outcomes. These long-term strategic partnerships have the power to dramatically alter the delivery of health care throughout the industry for the better, making them a vital part of breaking down the barriers to The Three Rights.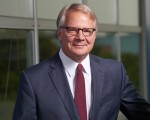 About the author: Brent Shafer is the chief executive officer of Philips North America. During his tenure at Philips, Shafer has served as chief executive officer of the Philips Home Healthcare Solutions business. Under his leadership, the group achieved significant growth, expanded its portfolio of offerings and secured inroads into new markets around the globe. In 2014, he was promoted to CEO of Philips North America. He started his career at Intermountain Healthcare's Primary Children's Hospital and completed his bachelor's degree and additional graduate coursework at the University of Utah.
Back to HCB News