por
John W. Mitchell
, Senior Correspondent | March 01, 2017
2) Vendor-neutrality becomes a reality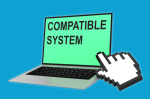 After several years as a fixture buzzword surrounding health IT, vendor-neutrality seems to have finally emerged at this years' HIMSS conference in a meaningful way. For example, Siemens launched its Digital Ecosystem platform with an array of partners to offer real time data for care delivery and operational efficiency.
Marc Lauterbach, Ph.D., Siemens vice president of Marketing Digital health services, told HCB News that one application on the platforms will collect and organize for viewing all of a facility's CT scanners, for example. He said one CIO he met with who saw the Ecosystem's capability immediately deduced how he could make his CTs more efficient through increased utilization — no matter the OEM make of the equipment.

Special-Pricing Available on Medical Displays, Patient Monitors, Recorders, Printers, Media, Ultrasound Machines, and Cameras.This includes Top Brands such as SONY, BARCO, NDS, NEC, LG, EDAN, EIZO, ELO, FSN, PANASONIC, MITSUBISHI, OLYMPUS, & WIDE.

Still, there is much work to be done in opening up the floodgates of cross-platform compatibility, and HIMSS attendees were eager to see the same in software — particularly
EMRs and EHRs that play nice
with disparate imaging software.
Many image solutions have not yet fully embraced the need to create not only an image repository for non-radiographic images (lab, ophthalmology, surgery, etc.) but also to combine that with the clinically necessary quantitative and diagnostic tools required for each respective specialty.