por
Lauren Dubinsky
, Senior Reporter | August 19, 2016
From the August 2016 issue of HealthCare Business News magazine
"Training content is delivered blending both time-tested and state-of-the-art, scientifically- based methods that allow us to fully utilize the student's time away from their home site," says John Schlanger, head of services, parts and training at Philips. "Maximizing the work-life balance is so important to the needs of our learners."
Through this model of training, the HTMs are able to spend their time off with their families and it gives them the flexibility to take breaks when it's best for them and control the lessons with YouTube-style narrated lectures. They can stop the video and replay the parts that they didn't understand or would like to hear again. It allows them to move quickly through the information they already know.

Quest Imaging Solutions provides all major brands of surgical c-arms (new and refurbished) and carries a large inventory for purchase or rent. With over 20 years in the medical equipment business we can help you fulfill your equipment needs

"This method of learning is quite effective and shortens the length of hands-on lab time required to bring the student up to a level of proficiency to support their site," says Schlanger.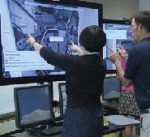 Tried-and-true
Other parts and service companies don't believe that online training is always the best approach. The Radiological Service Training Institute (RSTI) champions traditional, in class training. "[Online training] is OK for some medical devices, but we feel that for the highly complex and very expensive medical imaging systems, it is important for the student to be fully engaged in the learning experience," says Dale Cover, president and chief operating officer of RSTI.
RSTI has all of its students travel to the facility in Solon, Ohio, so they can have the equipment on hand for immediate access when questions arise. It also allows them to conduct lab experiments even the manufacturers wouldn't try in class, says Cover. "Online training claims to save you travel and time, but you miss out on the benefit of having the direct interaction with the instructor where you get the benefit of sharing their experience and the chance to focus on the learning without being distracted by our normal day-to-day activities," he adds.
Richardson Healthcare is another company that believes in in-class training. The company offers service training for Toshiba America Medical Systems' CTs, including the latest Aquilion PRIME CT, at its main training facility near Charlotte, North Carolina. The HTMs learn how to troubleshoot and change major components. There are quizzes and tests throughout the training process and when they pass those, they perform hands-on troubleshooting.