por
Gus Iversen
, Editor in Chief | November 11, 2015
From the November 2015 issue of HealthCare Business News magazine
Unlike tomography, digital X-ray tomosynthesis obtains its acquisition in a single pass and without much more dose exposure than an ordinary radiograph. The value is in being able to see a voluminous image that can be dissected into slices and remove overlap to achieve greater visualization. Many people may think of breast imaging when they hear the word tomosynthesis, but the same imaging principles are being applied to radiography and, with an advanced application called VolumeRAD, GE is among the first OEMs in the emerging market segment. Edler calls X-ray tomosynthesis "the wave of the future."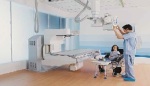 Numed, a well established company in business since 1975 provides a wide range of service options including time & material service, PM only contracts, full service contracts, labor only contracts & system relocation. Call 800 96 Numed for more info.

Using tomosynthesis, Edler says studies have shown 750x the sensitivity to detecting small-size lung nodules with no loss of specificity. It can also be useful in kidney stone detection. "The resolution you get with X-ray tomosynthesis is at the native level of the detector," explains Edler. "X-rays typically have higher resolution in the images than CT for example."  
In the orthopedic setting that visualization can be vital for looking at fine anatomical details in wrists or other small bones, in which clinicians want to confirm there is a union building up in the bone. Kneeland's hospital has been using digital X-ray tomosynthesis for about one year, but for the most part it was only operating in the outpatient orthopedic setting, where its utility was relatively limited. Only in early October did his hospital install one of the systems next to the emergency department.  
"It's more convenient and cheaper than CT, the patient is in the ortho clinic, they come down, they do one scan and we do one pass and you have your study right there," says Kneeland, adding that the dose exposure is also lower than CT. He and his colleagues are starting a study comparing CT to digital X-ray tomosynthesis. They will look at 300 trauma cases in outpatient settings to compare preliminary diagnosis of the fracture as well as characterizing the fracture. They hope to have 5-10 patients participating per week and some preliminary results by April.