CT/MRI Equipment - Increase Sales, Reduce Costs
Radiology Data Corporation
customers have access to updated information on 14,500+ U.S. hospitals and imaging centers with over 10,000 MRI systems and 12,000 CT scanners identified
--A comprehensive U.S. imaging market summary
--Identify CT and MRI systems by OEM, model and year of installation
--Key contacts including thousands of
email addresses
--Save time and reduce equipment acquisition costs!
Dozens of leading OEMs, ISOs, brokers and other medical imaging suppliers rely upon Radiology Data Corporation for comprehensive information on U.S. hospitals and imaging centers. Our phone-verified databases contain hard-to-find details on over 22,000 CT and MRI scanners installed in the U.S.
Updated annually -- an indispensable marketing resource.
Custom Research Available
- Expert phone research to help you quickly identify sales opportunities and generate revenue. Past projects have included identifying upcoming equipment purchases and service contract details/expiration dates.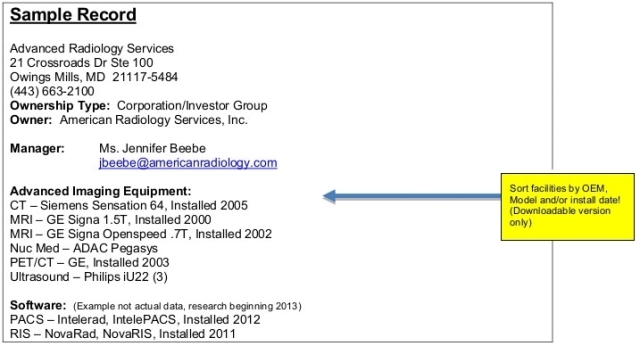 Call or email
Dave Ramsey
at 303.941.4457 for licensing details.