por
Loren Bonner
, DOTmed News Online Editor | December 18, 2012
Few imaging sectors can say with certainty that this past year has been a strong one. But across the board, mobile imaging providers report new contracts for interim projects, contract renewals and an emphasis in moving customers from part-time to full-time systems.
"Right now, everything we own and control is out on a lease. It's a good problem to have," says Richard Dishman, vice president of the mobile provider MPX Sales and Services, LLC. "This was not the case the past few years."
Hospitals rely on interim trailers when they need to upgrade from an older imaging system to a newer system. The new installation usually requires reconstruction, rewiring, or new heating and cooling systems and can leave a hospital without a functioning system for up to two years. In some states, it's actually required that hospitals provide imaging services 24/7, so going without the service is out of the question for many.

Quest Imaging Solutions provides all major brands of surgical c-arms (new and refurbished) and carries a large inventory for purchase or rent. With over 20 years in the medical equipment business we can help you fulfill your equipment needs

For the past few years, the recession and the general economic climate have not been favorable for OEM sales. Dishman says that in his conversations with hospital administrators and radiology department heads, this has caused them to extend their usual upgrading cycle from five years to seven years.
"Now we are hitting that seven year benchmark and some hospitals are saying we waited and things are slowly getting better and we want a new scanner," says Dishman.
Hospitals can only put off upgrading for so long, and there's a strong need to be as current as possible with technology — not only to stay competitive, but also to give patients the best care possible.
Dishman says knowing that health care reform will now move forward with Obama's re-election also plays a part in influencing capital purchases hospitals will make.
"Once they know the rules, then they can run the store," he says.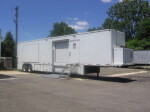 He speculates that health care reform will have a positive effect on mobile business too. More people entering the health care system mean more people who need procedures. And more equipment will be bought and sold to accommodate the growing demand.
Popular mobile modalities
Wisconsin-based Shared Medical Services, Inc. provides mobile MRI, CT, PET/CT and digital mammography solutions for hospitals. Paul Zahn, director of sales and marketing, says that this year MRI has been particularly in demand.