From the October 2011 issue of HealthCare Business News magazine
Taxes that aren't taxing
French – and others – trace this trend to short-term changes in the federal tax code. These changes were intended to help jumpstart the economy and they seem to be having a real impact on medical equipment leasing, specifically, changes to Section 179 Deduction and Bonus Depreciation for 2011, of the IRS Tax Code for fiscal year 2011. These changes have raised the tax deduction on new and used equipment to $500,000, up from $250,000 the year before. In addition, the limit on equipment purchases has risen to $2 million, up from $800,000. "Section 179 offers an incredible chance to acquire needed equipment or software, and increase cash reserves at the same time," says French.
"Hospitals and physician practices are moving to achieve the necessary 'meaningful use' standards in order to qualify for stimulus funds under the HITECH Act," says Steven Riggs, president, Healthcare Global Business Unit, De Lage Landen Financial Services, Inc. "While stimulus funds are designed to offset the cost of implementing electronic medical records and associated technologies, in a traditional capital budget scenario, the provider must front all of the money for the system while the stimulus funds are paid out over time. That makes equipment financing an attractive option because it allows providers to pay over time – which is the same way they will receive the stimulus funds," Riggs says.
"The savviest companies are combining Section 179 with qualified financing," says French. "I anticipate this increase in medical equipment to continue through the end of the year."
Advantage of the aftermarket
Another important component of the upsurge in medical IT equipment leasing is the stable aftermarket for used equipment, says French.
Without the ability to readily find a home for equipment after the lease term ends, lenders would likely be less willing to provide such favorable leasing opportunities, explains French. Thus, the strength of the market for refurbished medical equipment is the key to this growth.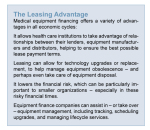 According to the Independent Equipment Company-ELFA 2011 survey, the medical equipment sector has shown the greatest increase in residual values of all equipment types over the past year.