por
Sean Ruck
, Contributing Editor | June 14, 2011
From the June 2011 issue of HealthCare Business News magazine
The SNM has been around for a long time – more than half a century. But this is a particularly good year to be leading the society with some long-planned initiatives seeing the light of day. Dr. Dominique Delbeke, the 2010-2011 president, shared some information about the latest from SNM, including the big news about the initiatives.
DMBN:
Serving as president of SNM is an impressive accomplishment. How did you get to where you are today?
Delbeke:
I'm a nuclear physician by training. It's not a specialty that medical students think of when it comes time to decide about a specialty because nuclear medicine is not addressed much in medical school. Medical students are usually exposed to nuclear medicine if they choose to do an elective radiology or nuclear medicine rotation. Actually, I started in pathology but I had an opportunity to work in nuclear medicine for two years while waiting for a pathology position to open up. By the time the position was available, I realized I liked what I was doing and stayed with it. Since 1990, I've been on the faculty at Vanderbilt University where I'm now a professor of Radiology and Radiological Sciences and Director of Nuclear Medicine and Positron Emission Tomography.

Quest Imaging Solutions provides all major brands of surgical c-arms (new and refurbished) and carries a large inventory for purchase or rent. With over 20 years in the medical equipment business we can help you fulfill your equipment needs

DMBN:
And when did you get involved with the society?
Delbeke:
I've been an SNM member since 1986, when I was training in nuclear medicine as a resident. I began to be more involved with the governance of the society about seven or eight years ago. As for becoming president, a nomination committee proposes names according to set criteria of accomplishments, and then there is an election process by membership. So it's a question of being known for your scientific accomplishments and involvement with the society.
DMBN:
How do you make yourself known?
Delbeke:
You have to be engaged, one way is to develop SNM educational programs, whether live at SNM scientific meetings or web-based. In my own experience, I also wrote several books in a popular teaching file format on nuclear medicine, nuclear cardiology and positron emission tomography. Through that authorship, my national and international visibility increased and I was invited to give lectures at major meetings throughout the world.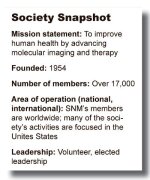 DMBN:
As the 2010-2011 SNM president, what were your main goals?