por
Kathy Mahdoubi
, Senior Correspondent | April 22, 2011
From the April 2011 issue of HealthCare Business News magazine
With the advent of the hybrid operating room and other multifunctional surgical, interventional and imaging spaces in today's health care facilities, focus has turned to maximizing patient and caregiver safety while saving space and improving efficiency and utilization. To fit all the new equipment, designers and engineers looked to the sky, or more precisely, to the ceiling as the final frontier in space utilization.
No matter how advanced the OR, the ultimate purpose remains the same — patient care. The interaction between patient and equipment is also relatively simple . . . either the patient is brought to the equipment or the equipment is brought to the patient. Surgical lights, C-Arms and X-ray units to MRI scanners and robotics can all be brought within easy reach. However, when this equipment is all provided on the floor, it can limit accessibility and even create fall and infection hazards.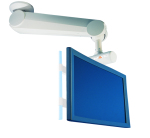 Some ceiling mount solutions prove more challenging than others. For example, tandem mounting different types of equipment on high-tech equipment booms and suspension systems requires a great deal of planning and vendor collaboration, but OEMs are stepping up to the challenge.
"A lot of things that have been on the floor historically are now mounted up on the ceiling," says Patrick Down, director of STERIS' project design group. "STERIS collaborates extensively with other OEMs, architects and hospital engineers to create hybrid ORs from concept all the way through construction and installation. By integrating not only equipment but all the cords and accessories into ceiling-mounted delivery systems, we can position everything to not only be safer, but more ergonomic for the staff."
Vertical integration goes up
Just about anything designed for a floor cart can be mounted on the ceiling, including endoscopy equipment, electrosurgical units, Harmonic scalpels and even IV poles and the patient tables themselves. Even equipment that may have already been mounted off the floor has experienced upgrades. One hot item, the flat-panel monitor, can be tandem-mounted onto surgical light systems now.