Our highly anticipated Parts & Service issue arrives in August
Value-based and personalized care are ideas we often think of in terms of patient outcomes, but a hospital's equipment partnerships should also be personalized in order to maximize value. Since there is no one-size-fits-all answer, healthcare providers need to educate themselves in order to find the unique blend of partners that will keep their systems running smoothly and cost efficiently.
Feature Stories:
OEM service contracts - In recent years, the trend has been toward higher customized service options. Equipment manufacturers understand that different hospitals have different needs and in-house HTM is a key consideration. We talk to some of the leading OEMs to find out what they're doing to help their customers save money on service.


Independent service - The value proposition for ISO is different from OEM and may offer unique cost benefits to certain providers. In this article we hear from the independents to see how their customer base is evolving, what they're doing to customize their offerings and also talk about the role of consolidation among ISOs.


Tips for better OEM and in-house partnerships - At AAMI Exchange, HealthCare Business News hosted a panel discussion where in-house and OEM leaders discussed what can be done to improve the way they work together. This is a recap of the discussion.


X-ray tubes advance - Understanding the business of X-ray tubes is crucial to managing your imaging systems intelligently. We look at the latest generation of X-ray tubes, important shifts in the market, and the growth of the replacement tubes industry.


Celebrating the career of Ed Sloan - Throughout his decades working in medical equipment, Ed Sloan has earned the kind of stature and reputation that many aspire toward but few achieve. In this special profile we celebrate the career of an industry legend.
Columns & Departments:
Protect your investment: service contract insights - Figuring out what kind of service contract you need for a new piece of capital equipment requires careful consideration. Equally important, is knowing how to negotiate for strategic terms and conditions that will ensure uptime at your facility without breaking the bank.


Ceiling mounted installations - The workflow and space-saving benefits of ceiling mounted equipment are often touted, but getting those systems securely installed is a logistical challenge that should not be taken lightly. In this article we share tips from providers on how to make that process as smooth as possible.


Lifecycle management - It's customary for equipment manufacturers to stop servicing older equipment models when it's no longer cost-effective for their business. But what does this mean for rural care providers who cannot afford to replace systems that are deemed 'end of life'? We examine a dynamic problem with no simple solutions.


Purchasing insights: the economy of service - The expert analysts at MD Buyline share their exclusive market insights regarding cost trends in equipment service. Their impartial data helps providers make smarter choices.


Future of equipment service - GE Healthcare's Rob Reilly, VP & GM, U.S. & Canada Service discusses the way healthcare finance is evolving and what this will mean for service partnerships five or 10 years from now.


In addition to these articles, our August Parts & Service issue will also contain exclusive reports on some of the most exciting presentations from AAMI Exchange.
Numbers that will drive your August sales message home:
Total Print Circulation: 32,466
Diagnostic Imaging Center Manager: 5,386
Director/Administrator Diagnostic Imaging: 3,125
Director/Manager Biomedical Engineering: 3,798
Additional Emailed Circulation: 32,500
Advertising Deadline Closes: Monday, July 15th
Materials Deadline Close: Wednesday, July 17th
Bonus Trade Show Circulation: GBIS, CEAI, NCBA
August Bonus Distribution:
CEAI - Clinical Engineering Association of Illinois - August 14-15, Oakbrook Terrace, IL
NCBA - North Carolina Biomedical Association - August 13-16, Pinehurst, NC
GBIS - Georgia Biomedical Instrumentation Society - August 16-17, Macon, GA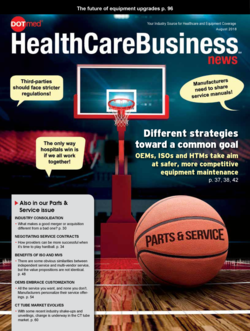 *2018 Cover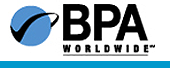 DOTmed is BPA certified, meaning that a neutral third party has verified our circulation numbers.
Advertise on DOTmed's Homepage: Check out the new Resource Guide to promote your company, products & services
---
Digital Distribution
Each month DOTmed emails a digital copy to 32,500+ users.
New sponsorship opportunities available.
Contact us for more information!