por
Lauren Dubinsky
, Senior Reporter | October 14, 2019
From the October 2019 issue of HealthCare Business News magazine
The SV-6060 is set up to play media from DVD players, computers and mobile phones. The patient can log into the system and play their own personal media instead of having to choose from a pre-made queue.
In addition to skins and sculptures to transform the scanner environment, DTI also offers its customers animation experiences that can easily be added to any imaging gantry.

Numed, a well established company in business since 1975 provides a wide range of service options including time & material service, PM only contracts, full service contracts, labor only contracts & system relocation. Call 800 96 Numed for more info.

"Our iMotions projection system is an award-winning patented design, with vivid imagery and a patient-friendly app that allows access to our video content library," said Wendy Hamacher, the company's sales and marketing manager.
NordicNeuroLab went a different route and offers customers its 40-inch 4K UHD InroomViewingDevice, VisualSystem HD goggles and AudioSystem headphones.
"Attention is moved toward something positive and entertaining, which helps the patients to be calmer, and a 30- to 60-minute scan won't feel like a long time waiting," said Remøy Endresen.
This year at RSNA, Cambridge Research Systems will be unveiling its Rapport entertainment solution for the MR suite. In addition to being a complete entertainment system, Rapport also provides a two-way audio and video link between the MR patient and technologist.
MRIaudio currently offers pneumatic headphones that play music and allow the technologist to communicate with the patient during the exam, and the company plans to release a visual entertainment solution to pair with its audio systems.
"Our product lines are ever evolving and adapting to market demand," said Caruso. "Providing both audio and visual entertainment during scans will allow patients to feel more comfortable in this very stressful environment."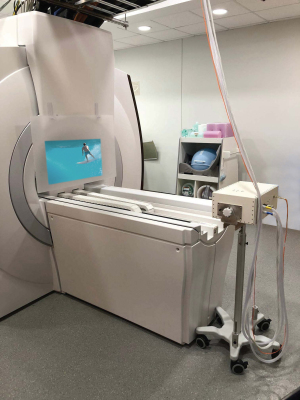 Designing a more patient-friendly scanner
When it comes to patient comfort, most of the MR manufacturers choose to focus their energy on the design of the system rather than add-on accessories. Hitachi Healthcare Americas is leading the open-bore field with its 1.2T Oasis MR with an 82-centimeter patient table.
Hitachi still offers visual and audio products, but the company feels that isn't always necessary since the patient has a 360-degree view during the exam. Because of that, the company partners with other companies such as MRIaudio to provide the add-ons.