por
Lauren Dubinsky
, Senior Reporter | July 08, 2019
From the July 2019 issue of HealthCare Business News magazine
Philips Healthcare, on the other hand, offers its aBiometry Assist application, which uses anatomical intelligence of fetal anatomy to automatically pre-place measurement cursors on selected structures that clinicians can accept or edit. Despite the automated nature of the technology, Philips is seeing enthusiastic adoption of these automation tools.

1st FDA Approved Handheld Wireless Ultrasound Probe.Currently being used to fight COVID-19 in Wuhan China, South Korea, & within the USA.Features include Lung Ultrasound Scanning, & PACS Compatibility. ( CONTACT US TODAY TO RESERVE INVENTORY )

Companies excited about potential of AI
One area stirring up a lot of excitement is the use of artificial intelligence in OB/GYN ultrasound and the significant role it could play in the coming years for both new and existing users.
"For high-volume practices, AI will aid in automating exams to rule out anomalies," said Jeff Cohen, general imaging and women's healthcare ultrasound business leader at Philips. "This will enable clinicians to spend more time with their patients and on their more complex cases."
It could also play a role in providing the initial analysis of the severity of a fetal anomaly, and help make OB/GYN ultrasound more accessible for less skilled users because of its potential to automate exams.
"This will play an ever-increasing role in developing and emerging markets where governments are investing in expanding access to healthcare," said Cohen. "The challenge beyond equipment and solutions is skilled users."
GE now offers its SonoCNS technology on its Voluson ultrasound systems to help properly align and display recommended views and measurements of the fetal brain. This is part of GE's Edison Platform, which is designed to integrate and assimilate data from disparate sources, apply advanced analytics and AI to the data, and generate insights to support clinical, financial and operational decision-making.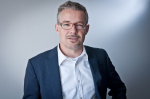 "Advancements in AI and automation simplify the exam process for the user, while gaining result consistency and reproducibility," said Roland Rott, general manager of GE's women's health ultrasound. "Also, clinicians are looking to image earlier so that anomalies can be detected sooner, which can enhance patient management and outcomes."
Reducing work-related injuries for sonographers
Work related musculoskeletal disorders (WRMSDs) affect up to 90 percent of sonographers and other users of diagnostic medical sonography, according to the Society of Diagnostic Medical Sonography (SDMS). They can take a significant personal toll on the affected because they might no longer be able to work or perform simple, daily tasks.