por
Lisa Chamoff
, Contributing Reporter | May 13, 2019
From the May 2019 issue of HealthCare Business News magazine
Testing equipment doesn't come with all the bells and whistles of the latest patient monitor or CT scanner, but it can make all the difference when managing a fleet of expensive investments.
The market continues to evolve with touch screens and data-sharing capabilities, as well as some smart automation.
Here's a look at some of the latest testing equipment on the market.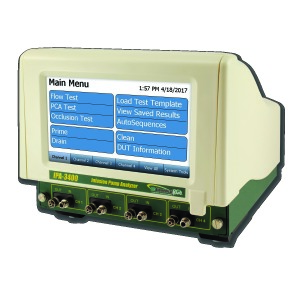 BC Group International
Over the last year, BC Group has released the IPA-3400, a compact infusion pump analyzer with a touch screen user interface and a dual syringe stepper motor-driven system that provides continuous monitoring of the fluid flow, without the need to stop and perform intermittent drains.
"This provides a more realistic flow path for the infusion device under test and therefore more accurate readings," said Ken O'Day, vice president of sales and marketing for BC Group International. "Also, independent stepper motor control of the custom designed ceramic valving allows the system to run not only more quietly and more smoothly, but it also allows for a powered fluid flow for use in the built-in cleaning cycle."
The IPA-3400 has built-in auto-sequence capabilities that allow the user to perform automatic test procedures specified by various manufacturers, which O'Day said saves time and reduces the risk of human error.
The IPA-3400 holds up to four IPA-3900-FM flow modules, which are individually serialized and calibrated so that they can be moved from channel to channel and unit to unit.
"Once installed, they are recognized by the IPA-3400, and their serial number and NIST-traceable calibration information are presented on the display and utilized in all data reporting," O'Day said. "This means you will never be down because one of the channels needs calibration or repair, which is unique to this type of product."
The company also released the AA-8000 portable anesthetic agent analyzer for hospitals and surgical centers.
O'Day said the compact analyzer, which uses a proprietary digital nondispersive infrared (NDIR) technology, has one button to select the agent to be analyzed and one-button control over the sampling pump, which makes it easy to use.
"No complex menus and key combinations are required and you do not have to turn the unit off to switch agents," O'Day said.