por
Sean Ruck
, Contributing Editor | May 31, 2019
From the May 2019 issue of HealthCare Business News magazine
This year marks a big milestone for Houston Methodist.
The hospital system is recognizing the 100th year since its founding. HealthCare Business News is doing its part to spread the celebration by speaking with Dr. Marc Boom, president and CEO of Houston Methodist, about the past, present and future of the organization.
HCB News: What attracted you to a career in healthcare?
Marc Boom:
In high school, I made the decision to become a physician, and that's what I pursued and where my career started. It was also in my genes to a certain extent. My mom, in a different era I think, would have been a physician. She was a schoolteacher early on, but has volunteered in hospitals as long as I can remember dating back to the 1980s. I think I had that interest in medicine through her. But like most people who enter the field I recognize what an amazing and rewarding career healthcare is. The ability to help people get through some of their toughest times, develop long-term relationships, it's strongly appealing. I really consider having a career in healthcare a great privilege and even a calling.

Carestream Health is a leading provider of quality X-ray systems and detectors that are designed to maximize diagnostic confidence, workflow and patient satisfaction. Follow the link above to see our complete portfolio of digital radiography solutions.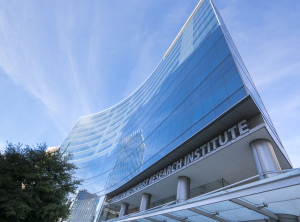 HCB News: How long have you been with Houston Methodist?
MB:
I will celebrate my 22nd year in about three weeks. I am in my 8th year as CEO.
HCB News: What is the work culture like at Houston Methodist?
MB:
If you asked me what the absolute best thing about Houston Methodist is, it would be our culture. We are very intentional about our culture. We really believe that organizations need to be intentional about culture to grow and nurture it. For us, we call it I CARE, which stands for integrity, compassion, accountability, respect and excellence. It really permeates throughout our organization, from our board of directors on through the institution. You can walk up to any one of our 24,000 employees and our thousands of doctors, and if you were to ask what the culture is, what the values are, they would talk about I CARE. We believe the patient is at the center of everything that we do and that faith and spirituality, caring for the whole individual, are part of that health journey.