por
Lauren Dubinsky
, Senior Reporter | April 09, 2019
From the April 2019 issue of HealthCare Business News magazine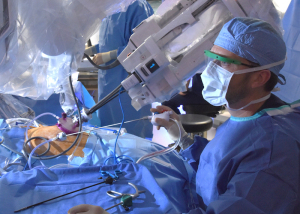 The magnetic system includes a laparoscopic delivery system, a detachable end grasper and an external magnet. The grasper is inserted through a trocar and its distal tip is used to grasp the anatomy.
The surgeon manipulates the grasper so that it's within the proximity of the external magnet, which is placed on the patient's abdominal wall. The anatomy can then be moved as the surgeon moves the magnet.
"Right now other people who use the da Vinci SP robot have to make an extra hole to retract tissue or organs out of the way," said Cadeddu. "So it's not actually a single-incision surgery – it's more like a two- or three-incision surgery. Why make extra holes in a patient if, with magnetics, you don't have to?"
His long-time interest in magnets inspired him to develop this novel technique. Intuitive Surgical and Levita Magnetics are both interested in this approach and are now encouraging customers to use their systems together.
When it comes to patient outcomes, Cadeddu stated that they are similar to the outcomes from manual single-incision laparoscopy. Over the last 12 years, studies have shown that patients do incrementally better when a laparoscopic procedure is done through a single incision.
"You would think that whether you make one hole with laparoscopic instruments or one hole with a robot, you should end up getting the same benefit," said Cadeddu.
Single-incision robotic surgery is much easier to perform than the manual alternative, but Cadeddu doesn't believe that it will become mainstream. Many hospital and health systems likely will not want to part with their existing robotic systems even though they require four incisions.
"The problem with all these robots is that they are so expensive," said Cadeddu. "I think the single-port robot system will become an alternative way to be even less invasive, but I don't know if it's going to ever replace all of the standard multi-port robot surgeries."
However, he did mention that it could become the standard at big hospitals and health systems that can afford this technology.
Back to HCB News