por
Lisa Chamoff
, Contributing Reporter | March 04, 2019
From the March 2019 issue of HealthCare Business News magazine
Up until last year, children in the United Kingdom with cancer seeking treatment with proton therapy needed to travel outside of the country.
While the U.K.'s National Health Service covered the cost of both treatment and travel, to either the University of Florida Proton Therapy Institute (UFHPTI) in Jacksonville, Florida, or the West German Proton Therapy Center (WPE) Essen, Germany, the journey would take a toll on families.
Things have changed with the opening in December of the first National Health Service (NHS) proton beam therapy center in the U.K., located at The Christie in Manchester.

Numed, a well established company in business since 1975 provides a wide range of service options including time & material service, PM only contracts, full service contracts, labor only contracts & system relocation. Call 800 96 Numed for more info.

The center, which houses Varian's ProBeam proton therapy solution, enables patients to receive treatment sooner and is much more convenient for patients and their families.
"The major access issues we have faced in the U.K. have been either around the timing of treatment – sometimes you want to give radiation therapy sooner rather than later – and the challenge of spending a lot of time away from home," said Dr. Ed Smith, clinical director of proton therapy at The Christie in Manchester. "Patients can be unwell and can't travel. You don't want to do anything that compromises their health and outcomes. Our support services go a long way in supporting those challenges, but it is a struggle."
Additionally, referring patients abroad is more expensive, with the cost of sending patients to the U.S. often costing the NHS more than $100,000.
"You're treating a relatively few number of patients for a lot of money," Smith said.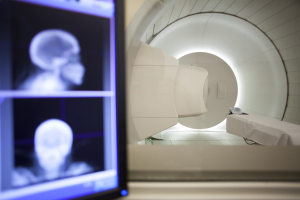 Another center at UCLH in London is due to open in a year, and the two centers together will be able to serve the U.K. population.
Going the distance
Access to proton therapy often necessitates travel, and proton centers are designed to accommodate these needs for pediatric patients and their families.
Northwestern Medicine Chicago Proton Center is one of the country's busiest pediatric proton centers and is located down the street from a Ronald McDonald House, which provides children and their families with a free place to stay, meals and shuttle service while undergoing treatment, and a comprehensive rehabilitation center, which provides rehabilitation services during treatment.