por
Sean Ruck
, Contributing Editor | November 06, 2018
From the November 2018 issue of HealthCare Business News magazine
HCB News interviewed Guy Medaglia and put the spotlight on Saint Anthony in May 2017.
The hospital has the honor of being the first to get a return visit to hospital spotlight due to its announcement of being officially designated a children's hospital in July of this year. With more of a story to tell, Medaglia welcomed another conversation and started with an explanation of why Saint Anthony took the step of getting the designation.
HCB News: Why did Saint Anthony decide to pursue pediatric designation?
Guy Medaglia:
We've seen a number of hospitals close down their pediatric department. We can't do that – we can't and we won't. The communities we serve have a lot of babies, a lot of kids. When you're a community hospital – at least what our philosophy is here – you take a snapshot of the community, review its needs and provide quality services.
I went to the state to talk about the commitment we were planning to make, but we wanted to get some kind of designation. The state agreed. We approached them having pediatric intensivists; a partnership with the University of Chicago to have residents come in. We also had partnerships in place with pediatric specialists who come to the hospital and have clinics. Through the partnerships, our patients have exposure to every specialty at the University of Chicago. If we can't handle a specific illness, we talk with the family and recommend they go to the University of Chicago. That partnership has been very good. When we went into that partnership, we also went into a partnership with labor and delivery. They provide a lot of specialists that come here, including a maternal fetal medicine specialist. That program was working well, so they came back and asked if there was anything else we would need. We talked to them about orthopedics. So about three months ago, we started having six orthopedic specialists come in every week for clinics and services. Then, Northwestern approached us, they wanted to talk to us about some programs.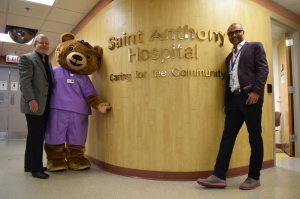 I was just telling someone the other day who had asked if we were thinking about having someone buy us. I told them we have no desire to be purchased. The model we found works for us is being independent, and lets us readily adapt to the community need without having to have the focus so strongly on financials.