From the January/February issue of HealthCare Business News magazine
The following are just some of the products and services on display at ECR 2018:
Varex Imaging, Nexus DR Software
Expo 2, Stand #209
Nexus DR is advanced, digital X-ray image acquisition software designed to quickly and easily automate patient workflow and obtain higher quality images using less dose. Integrated with Varex 14x17 wireless cassette-sized detectors, Nexus DR provides a cost-effective and trouble-free solution that includes advanced image processing algorithms for optimal image quality and excellent reliability. Nexus DR is an efficient solution designed to provide fast and accurate diagnostic images with minimal user interaction.

Quest Imaging Solutions provides all major brands of surgical c-arms (new and refurbished) and carries a large inventory for purchase or rent. With over 20 years in the medical equipment business we can help you fulfill your equipment needs

Varex Imaging, Cardinal CT Tube
Expo 2, Stand #209
The Cardinal (Computed Tomography) CT tube is being designed into new OEM equipment and is optimized for use in mid-tier range CT scanners. It also is a direct replacement for the Stargate/ CTR-2150 tube used in Philips Brilliance 6(r) and 16 CT scanners. With an X-axis toggling focal spot, a 5MHU anode and a 0.5 second gantry speed, the Cardinal has high heat capacity, excellent image quality and throughput allowing for quicker imaging. The tube also has a 12-month full replacement warranty.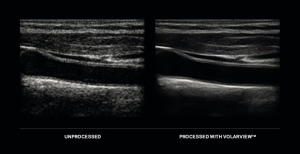 ContextVision, VolarView
Expo 1, Stand #107
ContextVision's world-leading image enhancement technology is now available also for the handheld ultrasound market segment. VolarView is designed for efficient implementation on all types of handheld devices such as smartphone and tablet-based systems. The increased availability of handheld devices extends the use of ultrasound to application areas and users beyond the traditional ones. The excellent image quality of VolarView gives diagnostic confidence. ContextVision now offers intelligent image enhancement technology for the full range of ultrasound systems addressing the growing need for patient care.
Back to HCB News