From the April 2017 issue of HealthCare Business News magazine
GE Healthcare / OEC Elite MiniView
Ergonomically designed for fluid maneuverability, the OEC Elite MiniView allows surgeons to visualize finer details during extremity surgical imaging. The features of the mini C-arm focus on minimizing positioning struggles with SmartLock and enabling greater clinical imaging confidence with the largest displayed image size. This product is a perfect companion for ambulatory surgical centers, sports facilities, physician offices and hospital emergency rooms and operating rooms.

Quest Imaging Solutions provides all major brands of surgical c-arms (new and refurbished) and carries a large inventory for purchase or rent. With over 20 years in the medical equipment business we can help you fulfill your equipment needs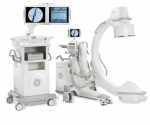 GE Healthcare / OEC 9900 Elite
The OEC 9900 Elite is designed to deliver superb clinical images during both simple and challenging imaging cases with fast and easy positioning. Loaded with features including highly articulating monitors and an intuitive touch-screen, this C-arm helps maximize patient throughput and staff productivity. The OEC 9900 Elite is a choice fit for the ER, OR, ICU or any surgical imaging or interventional setting.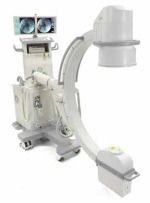 GE Healthcare / OEC Brivo Plus
The affordability and mobility of the OEC Brivo Plus C-arm have the ability to transform health care in private practices and rural hospitals simply by increasing access to quality mobile imaging. The familiar interface makes working, maneuvering and connecting simple and productive. It easily brings images into sharp focus using intelligent point-and-shoot technology.
GEMSS / KMC 650
The latest GEMSS C-arm is versatile, compact and economical with advanced functionality featuring expanded 31.5" free space, 27.2" arc depth, 39.3" SID and a greater orbital range (-90°/+45°). 2kW/40kHz high frequency monoblock generator and next generation software provide excellent high-resolution imaging, dose management and increased functionality to promote safety and improved workflows. Coupled with a two-year parts warranty that includes glassware, it's the clear winner for small budgets.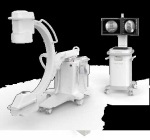 GEMSS / SPINEL 3G
This new, high-performance mobile surgical C-arm features an expanded 135° orbital rotation, larger 800mm free space, premium cart with twin elevating 19" LCD monitors and smart CXView software with DSA cine peripheral angiography functions and virtual collimation. The 300kHU rotating anode tube supports a wide exposure range with Boost Mode (up to 20mA) and Pulse Mode (up to 30FPS). The system provides added stability, Back-Up Fluoro and RAID 1 storage and a two-year warranty.