Image processing
RamSoft has introduced a new remote rendering solution. Through the technology, images are
streamed much like an online webinar, eliminating the need to download mass amounts of data to your computer. This process significantly improves efficiency and reduces the response time from
click to display. Remote rendering also reduces costs and hardware requirements, eliminates the need to create and manage pre-caching rules, and operates with zero-footprint architecture, so you can access data on any browser-capable device via RamSoft's zero-footprint viewer, RapidResults™.

Quest Imaging Solutions provides all major brands of surgical c-arms (new and refurbished) and carries a large inventory for purchase or rent. With over 20 years in the medical equipment business we can help you fulfill your equipment needs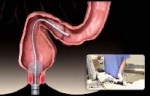 Single-use, self-propelled colonoscope
GI View Ltd., developer of advanced GI screening systems, announced that it has received FDA 510(k) clearance for the new Aer-O-Scope Colonoscope System, a disposable, self-propelled, joystick-controlled, easy-to-use colonoscope system, now with therapeutic access. The new system has two working channels that enable therapeutic access using standard tools, such as snares and forceps, to take biopsies or perform polypectomies. The Aer-O-Scope is the first colonoscope to provide a 360° omni-directional visualization of the colon to detect polyps behind folds.
Bedside monitor
Nihon Kohden has launched its BSM-3500, the latest advancement in its line of bedside monitors. Designed to meet the precise needs of ambulatory surgery and specialty centers, the BSM-3500 comes fully optimized with all features, both premium and standard, ready to use at a moment's notice, bringing among the highest standards of care to low-acuity settings. In addition to a range of standard monitoring features, the BSM-3500 offers a number of critical capabilities that include the ability to spot real-time mini trends for early detection of vital sign variability during outpatient procedures. In addition, the new monitor works with Nihon Kohden's proprietary cap-ONE Mainstream CO2 Sensor Kit, which is the world's first wearable mainstream CO2 sensor for non-intubated patients. As with all Nihon Kohden monitoring systems, the BSM-3500 is also designed to seamlessly integrate with electronic medical records systems.