From the August 2016 issue of HealthCare Business News magazine
Mobile-Connected Ultrasound Urologic Visualization Device
Signostics has received FDA 510(k) clearance for Uscan, the first smart mobile-connected ultrasound visualization device targeted at urologic care. Using algorithms from the science of computer vision, Uscan actively recognizes the 3-D contours of the bladder. It acquires up to 256 bladder slices, 32 times more than conventional bladder scanners, resulting in industry-leading accuracy. It also provides real-time ultrasound imaging of the kidneys, pelvic floor, prostate, gallbladder, bladder stones and catheter emplacement, for quick and easy visual tracking and observation. It is compatible with Android operating systems and has built-in WiFi and Bluetooth connectivity that enables fast and reliable image management and interoperability with electronic health record (EHR) systems.

Special-Pricing Available on Medical Displays, Patient Monitors, Recorders, Printers, Media, Ultrasound Machines, and Cameras.This includes Top Brands such as SONY, BARCO, NDS, NEC, LG, EDAN, EIZO, ELO, FSN, PANASONIC, MITSUBISHI, OLYMPUS, & WIDE.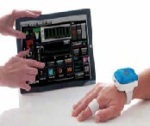 Wireless Remote Patient Monitor
CareTaker Medical, a pioneer in wireless remote patient monitoring devices, received 510(k) clearance for the company's Wireless Continuous Non-Invasive "Beat-by-Beat" Blood Pressure and Heart Rate Monitor based on patented finger cuff technology. The wearable CareTaker monitor enables uninterrupted wirefree and electrode-free vital signs monitoring. Using a low-pressure finger cuff, CareTaker's patented Pulse Decomposition Analysis technology non-invasively measures continuous beat-by-beat blood pressure with accuracy exceeding AAMI requirements, and measures heart rate as accurately as a 3-lead ECG for remote display on the CareTaker secure web portal or other wireless devices. CareTaker's onboard cellular and Bluetooth communication capabilities allow for simple setup and deployment as well as seamless integration with other devices.
Vitamin and Medicine Management System
HERO, a Brooklyn-based health technology company, debuts the HERO smart appliance, the world's first household companion for managing vitamins and medicines. HERO stores up to 10 different pills, dispenses them on schedule or on demand, and monitors consumption. The HERO mobile app allows users to receive reminder notifications when it's time to take a pill, and offers caregivers peace of mind by alerting them when a dose is missed. The HERO app provides real-time medication information and actionable data to help users stay on track. The app is now available on iOS and Android.