por
Diana Bradley
, Staff Writer | August 13, 2012
From the August 2012 issue of HealthCare Business News magazine
"In our redundancy, we have a system of satellite backup we can go to if we lose our Internet feed from our major providers; same thing with other utilities like telephones," explains Yarbrough. "In our command center, we have backup satellite phones as well as cell phones with out-of-state area codes."
Post-disaster: Recovery and lessons learned
After every emergency event, planners conduct a review to determine what went well, what needs improvement and what response strategies require corrective actions.

Quest Imaging Solutions provides all major brands of surgical c-arms (new and refurbished) and carries a large inventory for purchase or rent. With over 20 years in the medical equipment business we can help you fulfill your equipment needs

"This gives us an opportunity to address gaps in communications, resources and assets, safety and security, clinical activities, staff roles and responsibilities, and use of volunteers," explains Williams.
Post-Katrina, Ochsner has updated its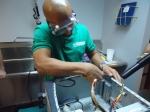 disaster response plan quite a bit. Most notably, by building the first privately owned hospital navy in the country to aid in any future hospital or nursing home flooding emergencies.
"We had specialized boats built, and purchased army surplus and troop transport vehicles," says Yarbrough. "We developed a waterborne rescue fleet where we can respond to New Orleans' hospitals immediately and evacuate 120 patients to other facilities within 12 hours."
This has been so successful that the state has approached Ochsner about setting it up as an Emergency Management Assistance Compact (EMAC), assisting health care facilities statewide. The Federal Emergency Management Agency (FEMA) is also interested in tapping into the EMAC program, utilizing Ochsner's waterborne rescue fleet on a nationwide basis.
Planning tips
All in all, the U.S. is doing well in the emergency preparedness arena, with the majority of the nation's hospitals meeting all-hazards preparedness measures, according to FEMA's 2012 National Preparedness Report from last May. But there is always room for improvement.
"Write the plan that you need to write to accomplish what you need to do within your hospital, and remember that it's always going to be an evolving document," advises McLaughlin.
Stevens recommends getting staff familiar with a plan, training people and running exercises to ensure it is effective. "The main thing is coming up with an all-hazards plan that can be used for all types of emergencies," she says.