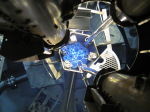 Medical Isotope Shortage Reaching Crisis Proportions
June 13, 2009
The shortage of medical isotopes will be a crucial issue for experts convening at the Society of Nuclear Medicine (SNM) meeting in Toronto, beginning this weekend.

Supplies of the radiopharmaceuticals have been scant since Atomic Energy of Canada Ltd (AECL), closed down its 52-year-old reactor at Chalk River, Ontario in May, after a leak was found in the reactor's vessel. The plant produces about 40 percent of global molybdenum-99 supply.

The reactor is the only one in North America, and one of five in the world, that makes molybdenum-99, which decays to become technetium-99m, an isotope used in an increasing number of medical tests.

Meanwhile, the AECL is frustrating suppliers and physicians alike, by being so vague about when--or if--the 52-year old plant will be restarted. AECL says it could take three months or more to restart the Canadian reactor and restarting it will depend on whether inspectors believe the half-century old facility is still viable.

To make matters worse, the only other large MO99 plant, in The Netherlands, is scheduled to be shut down for maintenance in mid-July to mid-August. This plant's output is about equal to Chalk River's.

Michael Graham, PhD, SNM's President-elect and director of nuclear medicine at the University of Iowa, says that having the two world class plants down at once "will cause widespread ramifications for the medical community. The bottom line is that patients needing nuclear medicine tests may not get them, and may even have to undergo exploratory surgery in some cases," Dr. Graham says.

He notes radioisotopes are used for such tests as: looking at blood flow in the heart; for bone scans, and for all sorts of other studies, like lung scans and uptake of excretion in the kidneys.

Meanwhile, Christopher O'Brien, M.D., president of the Ontario Association of Nuclear Medicine, worries that Canada's Atomic Energy Control Board will not restart the plant. "They say it will take at least three months but they haven't promised anything," he says. "And no one knows what's going on because they're so hush-hush."

Nordion and The Maples Plants

AECL's actions have deeply affected MDS Nordion, which has an exclusive agreement with the AECL to distribute the plant's uranium. The company is frustrated, both by the fact that AECL is not providing a timetable for the current shutdown, but also because the agency has indefinitely idled two new plants Nordion built, called the Maples plants.

The Maples are twin plants--one is a backup facility--and are the only plants to date that are dedicated to making medical isotopes, says Jill Chitra, MDS Nordion's vice president of Strategic Technologies.

A fundamental controversy surrounds the Maples' readiness for operation. Nordion says the plants should be restarted--and is urging AECL to enlist an outside expert to assess the plant. However AECL was not available for comment. Note that in May 2008, the Government of Canada and AECL announced that the MAPLE project would be discontinued without disclosing a long-term plan for the supply of medical isotopes. In July 2008, MDS commenced arbitration against AECL.

Nordion's Chitra tells DOTmed News, "We've always been concerned that [the Canadian plant] and all the other reactors around the world are all over 40 years old. So in 1996, we entered into a contract with AECL for $145 million to build the two Maple reactors. We feel that MDS Nordion, a public company, invested over $350,000 million of its own money in the plant. We had a commercial contract with AECL and have paid them to complete the reactors."

Chitra says the Maple reactors can provide 100 percent of world supplies and there are two reactors, providing built-in redundancy.

AECL Proves Inscrutable

AECL is difficult to gauge and its actions are unpredictable, perhaps due to secrecy related to security protocols. Nevertheless, the uncertainty adversely affects the medical community.

Dr. Graham tells DOTmed News that "the first time they shut down the Canadian reactor was in late 2007. It was down for about a month. And the reason it was shut down was that Nordion didn't replace a backup pump. Although the pump was an important backup, there was no real safety issue there, or a very marginal and arguable one. What was frustrating to everyone was the reactor was just sitting, when it could have been turned on."

He added, "Parliament in Canada become aware of AECL's actions and insisted AECL restart the reactor and that was the end of the crisis. About three weeks ago, there was discovery of a leak at the reactor. This time, there's is a genuine problem," Dr. Graham concedes.

Downstream Supplies

DOTmed asked downstream suppliers, Lantheus Medical Imaging and Covidien, how they were faring. Lantheus receives its molybdenum-99 supplies from Canada and Covidien gets its from the Netherlands.

William Dawes, Vice President, Manufacturing and Supply Chain for Lantheus, says, "Although Chalk River was our primary supplier, we have other suppliers in The Netherlands, in Brussels and another in France."

Attempting to further diversify, Lantheus signed an agreement with NTP Radioisotopes, a subsidiary of the South African Nuclear Energy Corporation, in May, to manufacture and supply an ongoing volume of molybdenum-99.

Covidien spokesman Stephen Littlejohn says because the company's main source is the Netherlands's plant, Covidien is faring well.

"Because the Netherlands plant shutdown was previously planned, we had made prior arrangements with the other operating reactors in Belgium and South Africa. That will ameliorate the situation. But there will still be a global shortage because of the Canadian reactor being down," he says.

Alternative Technologies

Isotopes can also be made from lowly enriched uranium, Dr. Graham points out. He says one plant that uses this technology is in Argentina and another in Australia. But currently, the U.S. has no regulatory approval to use the substance.

Coviden's Littejohn notes that the company is working with Babcock & Wilcox to develop a new technology based upon low-enriched uranium but commercialization will take a decade, he says.

Meanwhile, Covidien recommends using thallous chloride for use in cardiology scans.

Another alternative, only theoretical at this point, would be using cyclotrons to produce the medical isotopes. Triumph, a cyclotron research center in British Columbia, is developing this technology, Ontario Association of Nuclear Medicine's Dr. O'Brien says.

Read More About It

See these related DOTmed reports:

SNM President Robert Atcher Discusses Isotope Supply and Molecular Imaging
https://www.dotmed.com/news/story/9343/

CMS Asks for Public Comment on PET Sodium Fluoride Reconsideration
https://www.dotmed.com/news/story/DM1319

New Alternatives for Bone Imaging Could Be on the Horizon
https://www.dotmed.com/news/story/9288/

Serious Concerns as Isotope Shortage Looms
https://www.dotmed.com/news/story/6859/

Canada Stops Medical Isotope Reactor Project
https://www.dotmed.com/news/story/6026/

This report originally appeared June 10, 2009. Watch DOTmed News for coverage on this and other topics from the SNM meeting.