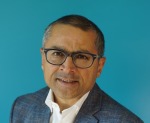 Using AI to monitor brain activity at the point-of-care
September 24, 2021
Ceribell is a company that is changing what it means to monitor brain activity. We sat down with the company's chief medical officer, Dr. Diku Mandavia, to learn more about how innovations in artificial intelligence can change what's possible at the point of care, particularly for stroke patients, and what it means for the providers who utilize the technology.

HealthCare Business News: We covered Ceribell for one of its funding rounds, and we're intrigued to see that your brain monitors are being adopted for both the ER and ICU. From our research it seems like you are the only company in the market who has these point-of-care monitors, is that correct?
Dr. Diku Mandavia: Yes, that's correct. Ceribell has developed one of the world's first non-invasive brain monitors, absolutely an exciting breakthrough. The company has taken EEG technology and miniaturized it, made it easy to use, brought it to point of care and to frontline healthcare workers, so that in addition to monitoring cardiac function and lung function we can also assess brain function, especially seizures, that could be present in many of these critical patients.

HCB News: Now, when we think about seizures, we think of someone having visible convulsions. Are people having seizures that we don't see?
DM: That's absolutely correct. In the medical literature, we're increasingly seeing that in critically ill patients, the vast majority of their seizures are what we call "non-convulsive." There's no actual motor activity, no shaking. And those are impossible to detect unless you're doing some form of EEG monitoring. EEG technology has been around for quite a while. Primarily it's been used in the ICU and in the ward, and of course sometimes in an outpatient context. But what Ceribell has done is made it a point-of-care EEG, and it primarily will be used in the emergency department and in the ICU, as an extension of a hospital's conventional EEG systems.

HCB News: So EEGs are already being used but they seem fairly cumbersome to be used more widely, especially in fast-moving ERs and ICUs.
DM: That's right. And that's a barrier to use which can actually put patients at risk. We developed our technology to be easy to apply at the point of care with minimal set up by a single clinician in minutes. The device is a simple headband which can be placed by a nurse or a tech. It attaches to a recorder the size of large iPhone and the recorder collects the EEG signals. We've developed an AI algorithm that will interpret those EEG signals for the bedside physician. Furthermore, the recorder's connected to the cloud, where those EEG waveforms can be read by a neurologist as well.

HCB News: So how exactly does this help patients?
DM: If you think about physicians at the bedside, especially in the emergency department or even in the ICU, you have critically ill patients, and you want to rapidly diagnose serious conditions and treat them as quickly as possible. And as I mentioned, unfortunately non-convulsive status epilepticus is very prevalent in a lot of conditions seen in emergency departments and ICU's—and there's no way to diagnose it. Now we've given these frontline physicians a tool to help take care of these patients. That's a big change, and that's a big advance in medicine. And as far as the patients, it's phenomenal for patients. Getting that test done quickly provides rapid detection and therefore quicker treatment. With quicker treatment, ideally there's a better outcome.

HCB News: Okay, so we have a better sense of how it helps patients. How does this help hospitals with matters like the bottom line and possibly reducing length of stay?
DM: This technology is game-changing at many different levels. At the hospital level, hospitals are under tremendous pressure to take care of more patients at less expense, and our device is really a low-cost device with high value. It helps extend current conventional EEG coverage and to make the diagnosis quicker. That actually will help decrease the length of stay, and there are studies that clearly demonstrate that. Today, ICUs are overloaded across the country. The standard of care for patients at risk for seizures is to proactively treat without a confirmed diagnosis, putting patients in a sedated state and potentially leading to intubation and transfer to the ICU. Now with Ceribell, we can accurately triage patients and treat and disposition the right ones. We're seeing reduction in intubation, drug administration, and of course length of stay, all of which decrease cost significantly. On the hospital side, it makes a lot of sense to integrate technology such as ours that will not only improve patient care, help physicians, but also help, as you mentioned, the bottom line in the hospital.

HCB News: That's encouraging and should get the attention of department heads all the way to CFOs, who are now paying attention to such tricks of the trade. Now let's get down to how it actually works and the technology behind it.
DM: We have some brilliant engineers based in Silicon Valley who have been working quite intensively for about five years to develop this technology. As I mentioned, conventional EEGs have been around for a long time. But the fact that ours has been designed for point of care is a big departure from current EEG systems. And doing that was quite a technological challenge. Typically when an EEG is performed, you need a technician, and there's a nationwide shortage of those professionals right now. Ceribell has developed an EEG system where no technician is required. It can be placed by any healthcare professional and within five minutes, you're going to have a reading on this small recorder. The fact that we've included a portal with cloud-based computing and an AI algorithm has really rounded out a well-thought-through system that can extend EEG coverage into point of care.

HCB News: And I know that from our conversations in the past that point of care is a priority for you, especially as an emergency room physician. Is there a wireless connection between the headband and the control module? And how does Ceribell's system indicate that there are non-convulsive seizures?
DM: Those are great questions. Right now our headband is connected with a wire to the recorder, but remember that recorder is right adjacent to the patient. The other thing which is quite unique to Ceribell is our AI algorithm, which is continuously analyzing EEG signals in the background. It is set at different thresholds to send an alarm to the bedside nurse or physician, as sort of an early warning system. When you're having a seizure, it's more or less like your brain is on fire, and you want to put that fire out as quickly as possible. Ceribell is your smoke alarm. When its alarm goes off, everyone treating a patient knows that something serious is going on, and can take care of it quickly. And that ultimately leads to better patient outcomes.

HCB News: We understand that you've enjoyed a fairly robust adoption curve. Tell us more about that trajectory.
DM: We're FDA approved, commercially available, and have quickly been adopted in over 200 hospitals in the United States. These include academic centers such as Stanford, Yale, the University of New Mexico, and UCLA as well as other large IDNs such as HCA and Kaiser. And they've all vetted the technology and recognize it's going to have a big role in their patient care.

HCB News: That's rapid adoption given that, in general, new devices tend to take a while to be adopted—I'm thinking of the need for education, changes in habits, budgeting, and the like. What's your thinking about the future?
DM: I see what Ceribell has developed becoming a new standard of care. And there's a strong precedent for that if you look at other non-invasive monitoring, whether it's EKG monitoring, pulse oximetry, end-tidal CO2, or non-invasive hemodynamics, which have all become standard of care for seriously ill patients. Brain monitoring, which has been conspicuously absent, finally has an opportunity to be monitored with a simple device. And I believe that by doing that, we're going to be able to detect more neurological conditions, which is ultimately going to help a lot more patients.