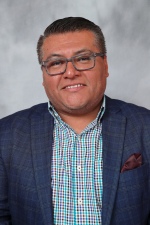 Medical equipment stakeholders prepare for FIME 2021
August 13, 2021
by
Gus Iversen
, Editor in Chief
Medical device stakeholders who are active in the Latin and North American market need no introduction when it comes to the annual FIME conference. It's an opportunity to forge new partnerships, catch up with old friends and get your finger on the pulse of the market.

In anticipation of the upcoming event, HealthCare Business News spoke to exhibition director at Informa Markets, Gil Alejo, to find out what attendees could expect from this year's meeting, taking place September 1-3.

HCB News: Why are North and Latin America important markets for medical device manufacturers?
Gil Alejo: LATAM has been an attractive area with several emerging markets, and there have been regulatory issues in some areas to be able to get product in these countries, especially when it comes to innovation and technology. LATAM also has one of the oldest aging populations and is facing an increasing obesity epidemic, driving demand for medical devices and equipment to counter these issues. In regard to the U.S., it is the largest medical device market in the world and is expected to increase from $186.5 billion to $262.4 billion by 2028.

HCB News: A lot of people have not travelled since before the pandemic. What is FIME doing to ensure the safety and comfort of attendees?
GA: FIME will be adhering to the local mandates and guidelines followed in the City of Miami Beach and the United States. Masks will be recommended for all and required for anyone who has not been vaccinated. We are encouraging social distancing and will have signage and hand sanitizers available throughout the venue for our attendees to use and follow.

HCB News: Will there be a virtual option for people unable to travel to Florida?
GA: Yes, there will be! Easy to use tools will be available for those that are unable to join us for the Live event, to participate and take part from the comfort of their home or office. From August 2 to October 1, our attendees and exhibitors will be able to join us Online for networking opportunities and for educational sessions available exclusively for FIME. Those that are participating in the live show in Miami can also join us for the online event.

HCB News: What kind of issues do you expect will dominate conversations at this year's meeting?
GA: One of the biggest challenges our audience has expressed to us this year is the inability to find suppliers and gain access to quality products, due to the pandemic and travel restrictions around the world. We are looking forward to helping bridge that access gap by connecting these groups of players through FIME 2021 Live and Online.

HCB News: For healthcare professionals who aren't sure if they should be attending, what kind of questions should they ask themselves?
GA: For those that are unsure if they should attend this year, they have to feel comfortable knowing how to interact with other visitors and exhibitors. They should be familiar with whether they need to wear a mask, and how to keep social distancing while still taking advantage of the opportunities to interact and demo the products and solutions our global exhibitors will be showcasing at the show. Healthcare professionals need to also ask themselves if the type of products that are looking to acquire for the facilities or for their distribution businesses will be available at FIME, to make it worth their while to attend. We have products in more than 10 umbrella categories, such as consumables, orthopedics, imaging, IVD, home equipment and more.

HCB News: For first time attendees, what advice would you offer to make sure they make the most of their time?
GA: Plan ahead and take advantage of the networking and educational opportunities available via FIME Online starting August 2. We will have access to all exhibitors and their products through our online platform and through the event app, where attendees can meet, engage and do business with our exhibitors in advance of the live show. We will also have free online trade and specialty content available to view from the comfort of your home or office. This will give first-time attendees a good feel for what the live show can offer. Follow us on social media #FIMEShow to get the latest updates and guidelines for the live show, like what to expect for registration, options for PCR testing and vaccinations, as well as more information on our free-to-attend live conferences on innovation, trade, supply chain management and sterilization techniques.

HCB News: What will the program at this year's event look like? Are there any key highlights you would like to share?
GA: A lot of the key highlights have been mentioned, but we definitely want our audience to look forward to and take advantage of the online program starting on August 2. This is new for 2021, and we are hoping to expand this feature and related options for 2022.