The acceptance and utilization of telemedicine exploded in the last year as patients sought to avoid healthcare facilities during the COVID-19 pandemic. An important mindset shift occurred among patients to make this possible.
They began to see telemedicine as a way for their physician to protect them from contracting the virus. Previously, there was the perception that telemedicine meant their physicians didn't have time to see them, according to Dr. Andrew C. Furman, executive director of clinical excellence at ECRI.
Interest is also growing on the provider side now that reimbursement is available. Over 43 states and the District of Columbia currently have some form of a state telehealth commercial payer law, according to the Foley & Lardner LLP law firm.
In addition, many states plan to update their telehealth coverage laws this year as well as make things permanent that were temporarily adopted during the pandemic.
The explosion of telesonography
Specifically in the OB/GYN ultrasound field, there is a growing interest in telesonography. Many are seeing the usefulness of remotely obtaining ultrasound images.
"I think what we're going to see is more innovation and trials on what can be moved to that home-based setting or more convenient settings like a drive-through that offers either an alternative or equivalent level of care," said Furman.
During the pandemic, a drive-through prenatal care model was developed that made it possible for pregnant patients to remain in their vehicle for services such as ultrasound exams.
This quelled patient anxiety since they still got to see an obstetric healthcare professional, but weren't exposed to the virus in a clinical setting, according to an April 2020 study published in Obstetrics and Gynecology.
But despite the benefits, this method does have some drawbacks. It doesn't allow for fetal heart rate assessments, selected ultrasound-based measurements or observations and face-to-face visits with physicians.
For that reason, Dr. Christine Han, division director of maternal-fetal medicine at UCLA Health, doesn't believe this method should be the go-to for non-rural areas.
"My opinion is that there are pockets of the U.S. and the world where telesonography is necessary and beneficial," she said. "However, as a whole, I do not encourage pursuing this technology as routine care."
She added that recorded images and clips are only a small percentage of the entire exam. She believes it's important for a physician to "lay hands on the ultrasound probe to directly visualize the fetal and maternal anatomy, view images in real-time and to be available for immediate counseling."
"That's obviously much more time intensive and some centersargue that it's not the best use of time for the physician to do the image acquisition," she said. "Nonetheless, I do feel like there's benefit to direct visualization of the fetus and being able to talk to the patient to get the context in which those images are being obtained," she said.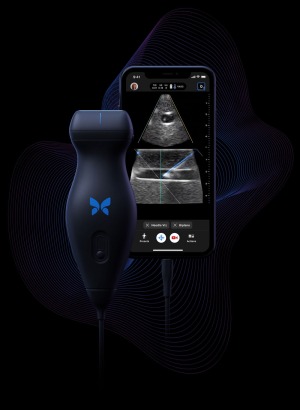 However, she does acknowledge that this technology is useful for patients who live far away from healthcare facilities.
ECRI's Furman thinks there will come a day when patients will be able to conduct their own ultrasound exams at home, much like home blood pressure monitoring.
"We're going to get to a point where you don't necessarily need the expert to do the study," he said. "The patient or their spouse can actually do the scan and be guided and AI can help to correct and collect the right data and images and transmit them."
The role of POCUS
The technology that will make this possible is point-of-care ultrasound (POCUS). Philips Healthcare's Lumify and Butterfly Network's Butterfly iQ ultrasounds are a couple of the offerings on the market today.
The probe can be plugged into a smartphone to capture images and cloud-based technologies can then transmit the images to the physician.
Philips partnered with Innovative Imaging Technologies in 2018 to pair Lumify with the company's Reacts collaboration platform to create an integrated tele-ultrasound solution. It allows for two-way audio-visual calls with live ultrasound streaming.
The user can get guidance from remote experts by using the front-facing camera on the smartphone to show the position of the probe. The expert can view the live ultrasound image and probe position simultaneously.
"We know that increased access to care is a critical need in many areas around the world," said Dr. Yanick Beaulieu, cardiologist-intensivist and medical officer for precision diagnosis at Philips. "Connected and integrated solutions have the ability to reduce the cost of care without sacrificing quality of care."
This technology has migrated to Philips cart-based systems with Collaboration Live, where it came in handy in New Mexico since there are many rural areas in the state. Dr. Michael S. Ruma, maternal-fetal medicine specialist at Perinatal Associates of New Mexico, has used Collaboration Live throughout the pandemic.
He encounters many common fetal illnesses and abnormalities at his practice, so he used this technology to remotely consult with sonographers and patients in those rural areas in real-time.
Since the beginning of the pandemic, he has conducted more than 5,500 telemedicine visits.
Butterfly iQ, which also connects to a smartphone, has brought ultrasound to the developing world due to its portability and low cost.
This technology costs $1,999 per probe compared to conventional ultrasound machines that can cost upwards of $250,000, according to a 2016 study published in Tropical Medicine & International Health.
For the first time, pregnant patients in Nairobi, Kenya are able to receive ultrasound exams. A healthcare startup, Access Afya, set up micro-clinics equipped with Butterfly iQ in this underserved area.
Butterfly Network also offers a telemedicine solution, like Philips' Reacts. The company rolled out a new version of its TeleGuidance ultrasound-based telemedicine platform in May of last year.
It features augmented reality guidance tools that allow trained clinicians to conduct ultrasound exams remotely.
ECRI's Furman agrees that this technology is innovative and exciting, but he cautions that research is needed to prove its efficacy.
"When you just think of healthcare delivery transforming, we really want to be mindful that as we transform and change we don't want to add in patient safety concerns and harm," he said.
The quest for a simpler exam
"If we get to this state where there's more home-based care, the process has to be simplified," said Furman. "The more simplified it is, then the more assurance you can have that you're going to be capturing the right data in the right time frame."
But in the meantime, physicians wouldn't mind a more simplified exam either. OB/GYN physicians have a lot on their plates as they juggle more patients and more expectations with less staff.
"Clinicians have been moving toward gynecology — often instead of obstetrics — as a practice of choice," said Barbara Del Prince, director of product and clinical management for women's health ultrasound at GE Healthcare. "They don't have to come out at 3 a.m.to deliver a baby and their patients are predictable."
In response to this trend, GE launched its Voluson SWIFT ultrasound system in September 2020. The system comes with built-in artificial intelligence algorithms for auto-recognition.
It was built with in-put from 200 women's health practitioners globally. It features a large touch panel and there are options to save favorites and to hide features or functions that the user doesn't want.
"You can favorite all of the technologies that you will use every day in your exam," said Del Prince. "This really dramatically simplifies the system so that it is personalized to the user."
The system's SonoLysta application recognizes 20 views recommended by the International Society of Ultrasound in Obstetrics and Gynecology mid-trimester practice guidelines for fetal imaging.
The tool can identify fetal structures directly from the ultrasound system and automatically perform measurements and label images.
Its SonoBiometry tool reduces keystrokes by automatically suggesting caliper placement and its SonoCNS tool automates the process of measuring the fetal brain.
"If I'm someone newer and I'm trying to perfect my skills, I can utilize this technology to grade my images to make sure I have all of the required pieces of anatomy in the imaging plane," said Del Prince.
AI technology like this is useful in clinical settings, but it's absolutely vital for home-based ultrasound to become a reality, said Furman. If patients will one day conduct their own ultrasound exams, the process needs to be as simple as possible.
"There's this desire to have some independence over your own personal health, so I do think there'll be a willingness [to adopt this technology]," said Furman. "But just as it was slow to adopt all the telehealth technologies before COVID fire started it — I think this will be something similar. Everyone needs to come together and be willing and open to trying something new."