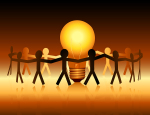 Can mobile apps help us reach 'supply Nirvana'?
May 12, 2021
by
Lauren Dubinsky
, Senior Reporter
Mobile apps are the portal to reducing costs and increasing productivity in the supply chain world, according to Brent Wigington, director of operations integration at Intermountain Healthcare. He explained to a virtual room of supply chain providers at last year's AHRMM annual meeting that apps can do this by minimizing the total cost of ownership of ordering and distributing products.

"This includes things like labor, expired products, excess inventory, counting, stocking and all the other things that are involved in that process," he added. "By the end of the presentation, we want you to learn some additional tools to improve processes without expensive system programming."

One of the major sources of supply chain inefficiency is the lack of inventory management training on the part of nurses. Wigington referenced this love-hate relationship between nurses and supplies — they need the supplies, but they have to spend valuable patient-facing time ordering them.

"I have not yet worked with a nurse who said that they were trained as a part-time inventory manager," he quipped. "Nurses just order supplies to make sure that they have something to treat their patients when they need it."

Typically, nurses order more supplies than necessary because they don't get into trouble for excess stock, but they have big consequences for not having enough. As a result, the yearly overstock rate will be higher and many of those products will expire in the meantime.

Intermountain Healthcare has experimented with the use of Kanban as a solution, which is a supply chain optimization tool that replenishes supplies on a visual, predefined, pull basis.

Wigington said that the health system's Kanban works very well to help identify when a product needs to be ordered and what the re-order point should be. By overlaying this system with a mobile app, nurse's order times are reduced to about 20 minutes per week, down from 5 hours per week.

"Product overstock and outdates are also reduced to zero because the nurse only orders what they need to fill the bin and nothing more," he added. "While the nurse is maintaining the integrity of the Kanban system, their frustration with supply bingo is over and they've really reached 'supply Nirvana'."

Cynthia Shumway, director of business applications for supply chain and shared services at the health system, was instrumental in getting this mobile app up and going.

The health system first implemented Kanban primarily in their acute care settings as well as a few non-acute care settings with supply chain personnel. The workflow required them to go between the mobile apps and their enterprise resource planning (ERP) system, which made it a "clunky" process and required a deep understanding of supply chain terms.

"I suspect everyone here is supply chain-related, so you don't realize that we speak a foreign language," said Shumway. "But when you start to work with a clinician, they don't know what you're talking about."

As Intermountain expanded to other non-acute care settings, they knew they needed to design an app that simplifies the process for those who don't speak this "language."

The first thing Shumway and her team did was include end-users in the design process by asking for feedback. They wanted to know what aspects of the system bothered the users and what would make their job easier.

"We were able to really flesh out pain points and see where the standard process wasn't so standard," said Shumway.

However, when Shumway's team brought this feedback to the technicians whose job it was to develop the app, there was pushback. Many of the features that the end-users wanted were difficult to develop.

"We took a field trip with the developers and had them shadow employees as they did their day-to-day work with our current applications and current processes," said Shumway. "There's nothing like shadowing to reinforce that your standard processes may or may not be as standard."

The resulting product was a one-stop tool for supply chain caregivers to do their file maintenance, print the labels and scan for reordering. Users no longer had to go back and forth between the ERP system because about 99 percent of that work is done on the mobile app.

In the non-acute care settings without supply chain personnel, nursing can use the app to scan their badge which identifies who they are, and then they will scan the bin's barcode. The app's algorithms identify what they should order to fill the bin.

By combining the health system's Kanban and their mobile app, Intermountain is able to reduce their ordering time by 85 percent.

"[Now] we don't have wrong products being ordered, we don't have wrong unit measures being ordered, and we don't order big, unnecessary quantities just because it's simple to do that," said Shumway.