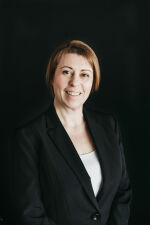 Embarking on a new leadership role during the pandemic
June 11, 2021
by
John W. Mitchell
, Senior Correspondent
Laureen Driscoll was appointed president of Tacoma General and Allenmore hospitals in May of last year. As she assumed leadership during the COVID-19 pandemic, we checked in with her about taking charge and the unique challenges during a once-in-a-generation medical event.

Driscoll joined MultiCare in 2016 as vice president of operations, with the primary role as operational lead for MultiCare's acquisition of Deaconess Hospital, Valley Hospital, and the integration of Rockwood Health System into MultiCare. Before joining MultiCare, Driscoll served as chief operating officer for Swedish Cherry Hill Campus in Seattle and vice president of Swedish Heart and Vascular Institute.

HCB News: Who or what inspired you to follow a career in healthcare from nurse to administrator?
Laureen Driscoll: Early on in my career as a charge nurse, I would ask why decisions were made because I wanted to advocate for my patients. Eventually, I decided I wanted to lead the decision-making to remove barriers for patient care at the bedside. We have what we call the "Golden Hour," the time of day we set aside to get out in the hospital to make rounds on the staff and patients. I was making rounds one day, and a nurse told me about a concern that he had with the carts we use when a patient codes (heart stops beating or not breathing). He pointed out that the cables to the end tidal CO2 monitor were too short to reach a patient who might be on the floor. This is the kind of problem an administrator doesn't know about unless they talk to staff on the floor. I always keep my eyes open, and it's delightful to be out and around to help solve a problem like that. Of course, now when I go upon the floors, I must wear appropriate PPE like a mask and shield if I am speaking with patients.

HCB News: You were appointed president of MultiCare's Tacoma General and Allenmore hospitals last year. Why does it make sense to have one president for both hospitals?
LD: Both hospitals have a lot in common in terms of patient demographics. It gives me a unique perspective and twice the opportunity to learn and grow. Tacoma General is a tertiary care referral center for trauma and higher acuity cases. Allenmore, on the other hand, has been very important in their community in taking care of patients during the peak of COVID 19 for admissions who were of lower acuity, but still met medical criteria for inpatient care. Allenmore also provides a wide range of needed, scheduled community-based services. These include orthopedics, gynecology, urology, general surgery, bariatric surgery. It also offers emergency care, as well as heart and vascular services, for sudden onset medical emergencies

HCB News: How are you serving patient populations in your service area?
LD: We have a very diverse population, and we keep our community needs assessment up to date to make sure we're best serving our patients. With the switch from fee-for-service to value healthcare delivery, our challenge is to be the lowest-cost provider with the best outcomes. That requires MultiCare to act as a steward of our resources and to reach out to form community partnerships to deliver value care. One example is our partnership that offers free dental services in South King County for individuals on Medicaid, people experiencing homelessness or those that are uninsured. This kind of program removes barriers for underserved populations.



HCB News: So far, what has surprised you or impressed you the most about your new position?
LD: Taking on a new position in a pandemic has been a challenge. I have enjoyed helping our leaders and our amazing staff during the pandemic. Our organization focused on making sure our team has had the proper protective equipment and support to care for patients properly. In December, I volunteered as a nurse to give vaccines. I don't often get to provide hands-on care and that was an absolute joy. MultiCare completed our 100,000th vaccine recently. I'm really proud of our excellent work in meeting this milestone to protect the community's health.

HCB News: Are there any initiatives or special projects you're undertaking or planning to launch?
LD: We're working on updating a strategic campus master plan for Tacoma General now because we are building a new Mary Bridge Children's Hospital across the street from our existing campus, with completion scheduled in 2024. This will allow us to expand into 92,000 square feet once the new children's hospital moves out. It's exciting because we'll be able to expand the care we provide throughout our patients' entire lifespans when these projects are finished.

HCB News: How are MultiCare hospitals experiencing and responding to COVID-19, and in what way do you see healthcare delivery changing permanently?
LD: With COVID-19, people don't want to come into the hospital or ER because of a fear of exposure. So we've seen a significant expansion in our telemedicine program, especially in rural areas. Telemedicine reduces the travel burden, parking, and wayfinding for our patients, and they like it. We're also investing in providing more care and services at home, which goes hand in hand with telemedicine.

HCB News: How do you plan to move MultiCare forward post-COVID-19 pandemic?
LD: Fortunately, cases are leveling off in Washington. As I noted, virtual care is here to stay. And I think this is good for a couple of reasons. First, it lowers costs for the patients. And second, we've always been interested in serving more patients through telemedicine, but people just haven't been ready for it. But because of the pandemic, I think our patients see the value now. Something that I haven't seen in other health systems is our Code Lavender program for our employees. It provides needed support for our staff who may be experiencing stress from the realities of the hard work they do. Before the pandemic, such support was a face-to-face experience, but now we have a virtual network in place. I've heard a lot of positive feedback about and appreciation for our Code Lavender program. It's very stressful for families not to be with their loved ones who are ill so it's been up to our staff to fill in — and it's hard. Code Lavender helps staff feel appreciated, heard, and empowered to make changes.