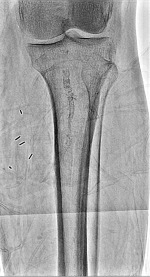 C-arms move into 3D, guided by touchscreens, AI
April 26, 2021
by
Lisa Chamoff
, Contributing Reporter
Manufacturers of fixed and mobile C-arms continue to seek out the holy grail of radiology – providing the clearest images at the lowest possible dose. Several companies are achieving this with the use of high-definition and 3D imaging, coupled with artificial intelligence (AI) to decrease radiation exposure.

At the same time, they're looking to make C-arms more mobile than ever with intuitive touch-screen user interfaces.

Here's a look at what's new in the C-arm space from several manufacturers.

Canon Medical Systems
At last year's RSNA annual meeting, Canon Medical Systems announced that it was making its 12-inch-by-16-inch True Hi-Def Detector available on the Alphenix Sky+, a ceiling-mounted fixed C-arm and 4D CT, combined CT/angiography room. The technology was previously available on the Alphenix Core+ and Alphenix Biplane, which were released two years ago. The technology allows for magnification with 76 micron pixel resolution at 3 inches, 2.3 inches and 1.5 inches.

"This expands the applications for this technology," said Kevin Maguire, managing director of the vascular business unit at Canon Medical Systems USA. "We believe the high definition technology may be very beneficial in supporting challenging interventions" across a variety of interventional radiology procedures.



ControlRad
In September 2020, ControlRad announced FDA clearance for use of the ControlRad Trace solution, designed to reduce radiation exposure on the GE OEC 9900 Elite, one of the most commonly used mobile C-arm models in the U.S.

Last month, the company announced FDA clearance of ControlRad Select, its new radiation-reducing platform in the angiography and cath lab space.

ControlRad Select is a retrofit for the Siemens Artis zee interventional imaging system. In preparation for commercial release this spring, ControlRad has entered into an exclusive agreement with Boston Scientific to sell the ControlRad Select technology.

"With the reach of the Boston Scientific sales team, every cath, EP and IR lab in the country that has a Siemens Artis zee will now have the opportunity to reduce their radiation dose by 85 percent without compromising image quality," said Guillaume Bailliard, chief executive officer of ControlRad.



"We believe our technology is vital to reducing radiation exposure in the clinical setting and releasing these two products were huge milestones in offering this potentially lifesaving technology to even more healthcare professionals," said Chris Fair, executive vice president and president of ControlRad.

GE Healthcare
Last year, GE Healthcare released a 31-centimeter-by-31-centimeter flat-panel detector for its OEC One CFD C-arm. The field of view is ideal for imaging long bones of the leg, Dan Strauch, chief marketing officer of GE Healthcare's surgery business

The company also introduced a new touchscreen user interface for the OEC Elite platform, which now has a separate roll stand for surgeons who want more control at the tableside.

"It allows you to really move around control of the system inside the OR, where you really need it," Strauch said.

The company's biggest introduction last year was of the OEC 3D, which was presented at RSNA in 2019 as a work in progress. This premium offering is currently 510(k) pending.

"We've really taken a lot of effort to develop a system that can be used as a 2D system, but when needed, they can get the 3D images for confirmation and to use navigation systems," Strauch said. "We really wanted to focus on a product that you can use during any surgery but that you can use as a 3D system as well. I think we're going to see 3D become a bigger part of the C-arm market in the next five years."

Omega Medical Imaging
Over the last year, Omega Medical Imaging has been marketing its technology that utilizes AI to automatically collimate to the region of interest during interventional cases, reducing radiation exposure by up to 84 percent, according to the company.

This technology is used across Omega's line of interventional systems, but most specifically on its E-View.AI, a fixed C-arm designed for endoscopic procedures such as endoscopic retrograde cholangiopancreatography (ERCP).

The AI technology automatically detects the physician's region of interest while simultaneously reducing radiation exposure to patients, physicians and staff, said Dan Alred, marketing manager of Omega Medical Imaging.



The company's target market is hospitals and medical centers that perform interventional procedures and are looking to protect their patients and staff.

"If you're working in these labs every day, incorporating lifesaving technologies such as this to lower your radiation exposure is a no brainer," Alred said.

Philips
In the third quarter of last year, Philips launched the next generation of its Azurion image-guided therapy platform, first released in 2017. It includes tableside control with a single touch screen for the system and all applications.

In the same quarter, the company released the Azurion Lung Edition, a tailored version of the platform that includes visualization and workflow tools to treat early-stage lung cancer with bronchial microwave ablation.

"The treatment involves navigation through the airways without an incision and Azurion provides a better platform for imaging," said Nicole Hermkens, marketing leader for image-guided therapy systems at Philips.

The company also launched a new app called SmartCT, which provides guidance for users on how to do 3D imaging.

Siemens Healthineers
At the beginning of 2021, Siemens Healthineers received FDA clearance for its Cios Flow mobile C-arm.

Cios Flow has a tablet-like user interface that is consistent across the monitor cart, C-arm and from the sterile field. The remote user interface can be attached to the side of the OR table or to a separate mobile roll stand.

A new feature, SpotAdapt, was designed to visualize challenging areas more easily.

"SpotAdapt lets you specify a region of interest simply by pointing to the specific anatomical area on the large preview image," said Allison Sutter, marketing manager of the Advanced Therapies business at Siemens Healthineers. "With a single touch you can automatically optimize relevant imaging and post-processing parameters such as brightness and contrast."

The Cios Flow utilizes a Windows 10 operating system, with integrated security functions to help minimize cyberattacks on system and patient data. It comes with user management features to prevent unauthorized access, track changes made to the system, disable use of restricted applications and secure sensitive patient data with BitLocker encryption. The system meets the security standard that is required by the Department of Defense (DOD), according to Sutter.



Siemens Healthineers has also partnered with Radlink through the Siemens Healthineers Digital Marketplace to provide integrated access to Radlink HIP and Radlink TRAUMA software. In addition to patented image stitching technology, Radlink can be used preoperatively, intraoperatively and postoperatively to evaluate surgical alignment and verify optimal implant placement through noninvasive, real-time guidance. Radlink HIP and TRAUMA software will also be made available on the Cios Alpha and Cios Spin mobile C-arms.

STILLE
Responding to an increased focus on 3D imaging, STILLE recently launched a 3D extension that attaches to its imagiQ2 table to add 12 inches of unobstructed 3D imaging in certain procedures where reducing artifacts is key to providing clear imaging. The tabletop and the extension are made with a .4mm carbon fiber material with high translucency to help accommodate the 3D sweep and rotation of the C-arm and reduce radiation dose.

This year, the company released its Medstone5 CV mobile vascular table in the U.S. The table offers five movements — elevation, Trendelenburg, tilt, longitude and lateral — and a maximum imaging field, while also accommodating mobile CT scanners with a slim tabletop design.

"STILLE has been focused on increasing the clinical impact and flexibility that is a requirement in traditional OR settings as well as in the growing outpatient surgery center market," said Susan Neese, vice president of sales at STILLE. "With the addition of the Medstone5 CV, we are providing a versatile and flexible solution for multiple applications and complementing various fixed and mobile X-ray equipment."



"Giving the surgeon full control during challenging clinical procedures will enhance the surgeon's ability to operate the table with a level of unmatched precision and help reduce OR time by eliminating the need to have a technologist reposition the patient and reduce the need to recapture an image," Neese said.

Turner Imaging Systems
Since last year, Turner Imaging Systems made several updates to its Smart-C mini C-arm software, including modification to the C-arm sleep feature.

"Before, there was a fixed time of five minutes," said Mike Orthner, a Turner Imaging product manager. "We found that in certain surgeries, it takes that long for specific tasks, so we listened to our customer and let them adjust it."

The company also made overall image quality Improvements and has been promoting the capability of its C-arms to allow pushing images over Wi-Fi or cellular. The feature has been used by the NFL to consult with surgeons located elsewhere before putting players back in the game.

Turner also introduced a novel sterile drape for the C-arm tablet that allows the surgeon or OR staff to use the tablet in the sterile field.

Ziehm Imaging
At this year's ECR, Ziehm Imaging is releasing a new C-arm variant with a larger 30-kilowatt generator. The system is designed to enable a mobile catch lab for cardiovascular procedures.

The company is the first to have a system with a 30-kilowatt generator on the market, versus its 2.4-kilowatt generator class, said Martin Ringholz, director of global marketing for Ziehm Imaging.

"Typically there's a lot of pressure on an existing OR," Ringholz said. "If you have a lack of square footage, it's easy to fit in. They can shift it to another existing OR and increase the caseload without having construction work."

In July of last year, Ziehm Imaging acquired French-based imaging software developer Therenva. The merger will allow more seamless integration of the software company's preoperative CT data fusion system with Ziehm's C-arms.