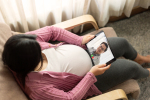 Rethinking OB/GYN ultrasound amid the COVID-19 pandemic
July 13, 2020
by
Lauren Dubinsky
, Senior Reporter
A recent survey from the American College of Emergency Physicians revealed that 29% of U.S. adults are delaying or avoiding medical care due to concerns over contracting the coronavirus. On top of that, many medical specialties have halted service altogether, but expectant mothers have continued to frequent healthcare facilities for ultrasound exams.

"We all know that obstetric care is essential for optimal maternal and fetal outcomes and obstetric ultrasound is critical to that process," said Dr. Bryann Bromley, OB/GYN physician at Diagnostic Ultrasound Associates in Brookline, Massachusetts. "I think that while antenatal visits to the clinician have been reduced significantly by design, my perception as an imager is that women still really want to have their ultrasounds to make sure their babies are doing well."



But, she added, "it is unclear whether this is due to avoiding healthcare entirely or relocation to an area less affected by COVID."

A universal focus for the majority of maternal fetal medicine departments and private practices is to reduce foot traffic. Dr. Michael Nimaroff, senior vice president and executive director of OB/GYN at Northwell Health in New York, has found ways to cut down on the number of visits, but he made it clear that there was no change in the use of ultrasound to manage the pregnancies.

When possible, he combines the early-on ultrasound scan for dating and ensuring the pregnancy is viable with the noninvasive testing scan done at 11 to 14 weeks. However, he also allows patients with a history of complications to come in sooner to confirm their pregnancy.

"Our patients are definitely happy to come in less, but are certainly still very concerned about their pregnancies and want to come in to see the baby," said Nimaroff.

Bromley is having a similar experience. If the patient is feeling okay, she does an intake by phone and then has them show up at 12 weeks to do the prenatal visit, ultrasound, genetic counseling and bloodwork all at once.

Some patients who had a miscarriage in their last pregnancy want to come in earlier to make sure the baby has a heartbeat. She has to explain to them that they don't need to get an ultrasound since they feel fine and have no symptoms.

Aside from lumping many services into one exam, departments and practices have also been cutting down on in-person visits by offering telehealth visits.

The role of telemedicine
Nimaroff is now conducting all new visit consultations through telemedicine. He can take the patient's history, discuss how far along in their pregnancy they are, and decide when they need to come for an in-person visit.

He also does most of his consultations for pregnancy-related issues and surgical issues through telemedicine. That includes genetic counseling, diabetic counseling and patients with hypertension issues.

"Depending on a patient's symptoms, we can use telemedicine to prescreen to see if they need to come into the office or go to the hospital," said Nimaroff.

Before COVID, about 500 individuals were signed up for Northwell Health's telemedicine program. In the last three months, that has increased to 7,000 individuals.

NYU Langone Health was able to cut the number of prenatal visits from about 10 to four per pregnancy, according to Roman. They did that by taking advantage of any blood pressure cuffs and scales that patients have at home.

"Determining which office visits can be done by telehealth has been important both in reducing office traffic and in enabling patients to receive care in the safety of their own home without any form of commute," she said.



One of the latest introductions on some of the portable ultrasound scanners on the market is the ability to transmit the information to a remote viewer. In the webcast, Merton demonstrated this capability using Philips Healthcare's Lumify ultrasound.

During these drive-through telesonography exams, a minimally-trained operator performs the ultrasound assessments by reaching through the patient's car window with the transducer. The scans are then sent to a remote physician for interpretation.

The software on these ultrasound devices also acquires images and video clips that can be emailed directly to the patient. The data is anonymized to avoid any HIPAA issues.

Despite the many benefits that this approach provides, there are a few drawbacks. Ambient light can make it difficult for the operator to see the screen, but that can be solved by draping a covering over the patient.

It is especially challenging to scan obese patients with this approach because the operator needs to get the probe in the right location as well as minimize the distance between the skin surface and the fetus to obtain all of the required details.



Are the cleaning protocols different?
"It's not a hard virus to kill if you just attack it with a little soap and water or 70% isopropyl alcohol," said Bromley. "There are numerous approved solutions – you just have to make sure that whatever you use is approved by the manufacturer of the imaging system you're using."

The Centers for Disease Control and Prevention guidelines call for the use of cleaners and water to pre-clean surfaces before applying EPA-registered, hospital-grade disinfectants to frequently touched surfaces and objects. In addition, medical equipment used for patient care should be cleaned and disinfected according to manufacturer's instructions and facility policies.

Even though cleaning products haven't changed, a lot more time is required to clean between each exam. That's because everything from the transducers to the door handles must be meticulously cleaned.

"The cleaning protocol is much different now than pre-COVID and there is even more intensive cleaning if someone who is COVID-positive comes into the office," said Nimaroff.

The most significant change is the increased use of probe sheaths when scanning patients who have or are suspected to have COVID. Most organizations, including ECRI, recommend the use of probe sheaths in this situation.

"It is important to note that the use of a probe sheath does not obviate the need to clean and disinfect the probe between patients," said Merton.

Taking the proper precautions
There are a variety of precautions that can be taken to ensure that any in-person visits are as safe as possible. According to Merton, that can include screening patients for symptoms of COVID before their appointment and upon arrival at the facility, encouraging patients to not bring visitors, maintaining social distancing guidelines in waiting areas and minimizing clutter in ultrasound rooms.

Bromley is deploying all of those strategies at her private practice. The day before the exam, her staff calls the patient to verify verbally that they have no signs or symptoms of COVID and have not been diagnosed with any risk factors for the virus in the previous two weeks.

If they pass that step, they are permitted to come into the facility, but if they report any of the symptoms, they are told not to come in for their routine ultrasound exam. They are instead contacted by their obstetrician and a COVID healthcare provider who can discuss their symptoms and decide on the need for an ultrasound exam.

The exam is put off for 14 days, if possible, but if that's not an option then the patient is taken to a designated COVID-positive ultrasound room on a different floor where the staff wears full personal protective equipment. Nimaroff also delays non-urgent scans, but if that can't be done then he has his staff wear the same protection.



At Diagnostic Ultrasound Associates, COVID-negative patients are required to wear a mask and sit six feet apart in the waiting room or wait in their vehicle until a room is ready. Bromley said there used to be 40 chairs in the waiting room, but now there are only seven.

Her practice also removed any non-essential items in the exam rooms such as extra chairs and bins. All that is necessary is the patient bed, ultrasound machine and transducers.

Both Nimaroff and Bromley are trying to prevent patients from bringing any visitors, which is proving to be very difficult for the patients. Instead, the physicians allow them to video call their family and friends toward the end of the exam.

ECRI's Furman warned about the potential risks of not allowing patients to have visitors.

"This must be balanced with the psychological safety of the family unit," he explained. "Having mother alone during visits can potentially lead to an increase in anxiety and depression."

Nimaroff is hopeful that at some point in the not-so-distant future they will get a little more relaxed on their visitor policy.