MR scans and other imaging exams can be an anxious experience, even for the bravest adult. For a child, who is likely struggling to navigate the reason for the scan, it can be a traumatic experience.
At the same time, healthcare facilities are working to decrease the use of sedation to help keep children still during the procedures.
Many hospitals and imaging centers have been successfully decreasing sedation rates and reducing the need for repeated exams using innovative products and the expertise of child life specialists.
Overcoming the 'fear of the unknown'
At Weill Cornell Medicine and NewYork-Presbyterian, children are prepared for imaging exams ahead of time.
In a study published last September in the Journal of the American College of Radiology, Weill Cornell Imaging at NewYork-Presbyterian decreased sedation rates for outpatient pediatric MRs by 5.6% for patients between ages 4 and 15 by implementing the MRI-am-a-Hero program.
The program, which was established in collaboration with Siemens Healthineers and Marvel Custom Solutions, includes a comic book with a story in which Captain America has to undergo an MR exam for his injured shoulder. Children also received a cape, Captain America and Iron Man plush toys, an educational DVD and a mini-model of a Siemens Healthineers MR scanner.
Though Siemens is no longer partnering with Marvel, Weill Cornell Imaging still offers the comic book via PDF on its iPads should a child choose to view the comic prior to imaging.
"For kids, there's a big fear of the unknown," said Rachel Cavaliere, pediatric radiology child life specialist at Weill Cornell Medicine and NewYork-Presbyterian. "One of the biggest things is to make sure there are no surprises. I do my best to meet with as many kids as I can to assess their needs."
Cavaliere works with families to determine if there's been a past medical trauma. Children see a video about what an MR is from a child's perspective and they also have the opportunity to ask questions.
Children are often more concerned about getting a shot than they are about the exam, so if the patient is receiving an IV with contrast, the child life specialists will prepare by putting IVs in dolls.
They also allow the child to bring in stuffed animals and let them wear special pajamas, Cavaliere said.
When a patient is scheduled for an exam, the imaging center will ask families if they want to participate and the child life specialist will be notified. If the child has a chronic illness, they might not use the preparation each time an exam is needed, though there is no additional cost for the program.
"If it's the first time they're ever having an MR, those are typically the parents that always want to participate," Cavaliere said.
It's also important to work with parents ahead of time.
At The Children's Hospital at Saint Francis, pediatric patients are given activities to do before the exam, such as watching cartoons online, or apps on an iPad related to MR exams. Parents can play out the exam with them beforehand, asking them to hold still while MR scanner noise plays in the background. Some parents even create blanket forts, or use obstacle course tunnels to mimic the MR scanner.
"When you partner with families, you can get pretty creative," said Kelly Kemp, child life specialist for pediatric pulmonary and the general pediatric unit for The Children's Hospital at Saint Francis. "The combination of the environment itself and having a child life specialist dedicated to this program who screens these kids and their families beforehand, and meets with the families the day that they get there, makes all the difference in the success rate of these MRs."
Creating calming environments
Some facilities have found that creating the right ambience is helpful in decreasing anxiety surrounding exams.
Sky Factory creates an illusion of the outdoors inside the exam room with faux multisensory skylights and windows, reducing claustrophobia and using daylight-quality LED artificial light to calm the patient.
Marie Wikoff, an interior designer who works with facilities on Sky Factory installations, said they are more unobtrusive than goggles during exams, which can also incur an added cost in keeping them clean and sanitary.
For pediatric installations, they can add fun features to the sky, like balloons and airplanes.
"A lot of things excite children in a different way than adults," Wikoff said. "Children need a higher level of engagement. They like to find things that are also artistic. It's not always a cute puppy dog picture that inspires them. There are things that make them attach to (the picture) because of what's going on in their lives. We add robots with red eyes, and they can point to that and say, 'That's what I feel like today.'"
Linda Marlay, radiology department manager at the Jefferson County Health Center in Fairfield, Iowa, said they added Sky Factory ceilings to the CT and ultrasound exam rooms when the facility was constructed in 2009, and added it to a new MR room in 2017.
The panels have an image of a blue sky and tree branches with pink flowers.
The facility's pediatric volume is small — less than 1% of 1,200 exams a month — and they rarely use sedation for pediatric patients, but the installation helps create a distraction, Marlay said.
"I do think that parents appreciate that we have the panels and that we use it to get patients to focus on something other than the imaging exam," Marlay said.
A single-blind patient study that was conducted with Texas Tech University's College of Human Sciences, in conjunction with Covenant Health, and published in the Health Environments Research and Design Journal in 2015, found the Sky Factory installations reduced acute stress in a little more than half of patients in a surgical-medical in-patient unit, plus decreased in anxiety in about one third of patients.
Cook Children's Medical Center in Fort Worth, Texas, worked with a company called Character Farms last year to create a jungle scene, replacing the blank white walls. Outside the entrance is the 3D head of a giraffe, while inside the MR scanner is a 3D carrot. The hospital has a youth advisory council that chose a favorite scene and the staff also had a say.
"We don't make those decisions on an administrative level, we engage the stakeholders," said Jill Koss, director of family support services at the hospital.
The department was already working to reduce sedation rates, guiding pediatric patients through deep breathing exercises and muscle relaxation techniques by blowing bubbles or pinwheels and utilizing goggles during the exam.
"The art has helped us reduce it even more because they're relaxed going into the exam," Koss said.
In September 2019, The Children's Hospital at Saint Francis installed a new GE Healthcare 3T scanner inside a Caring MR Suite from PDC Facilities, which provides 4K videos of relaxing nature scenes or movies that can be displayed on the ceiling for feet-first exams and via a mirror within the bore of the MR scanner for brain and upper body scans.
Their suites come with a lighting series that allows patients to pick the color of the room, with specific scenes within that lighting series.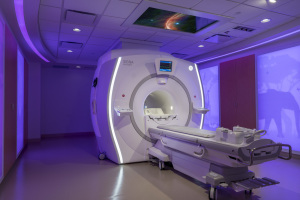 This gives patients a little control over the exam, Kemp said. They also offer MR-compliant goggles to watch movies, and headphones that block out the majority of the noise, but they let the child choose.
"When they have a little bit of control, their compliance rate with procedures goes up," Kemp said. "Everything we do as child life specialists is a child-directed process."
The facility has had a high success rate getting pediatric patients through MR exams without anesthesia, said Becky Reinholz, clinical manager of the child life department for the Children's Hospital at Saint Francis. Of the 264 patients aged 5 to 12 scanned in all, only 57 of them received anesthesia. Only four exams needed to be repeated, as the 3T scanner has software that can help reduce the subtle movements of children.
Creating distractions
Products that allow patients to watch videos or listen to music can go a long way in reducing anxiety around imaging exams.
The Carle Foundation Hospital in Urbana, Illinois, uses the CinemaVision system from a company called Resonance Technology, which allows for standard video, television and PC content through goggles and headphones, as well as two-way communication with technologists via a microphone.
"We all know kids can sit there and watch YouTube videos for extended periods of time," said Sara Burton, a certified child life specialist at The Carle. "Now the kids lie there and don't even realize a healthcare procedure has just taken place."
For CT scans, they can project an image right on the machine.
"Children can chose what the CT looks like," Burton said. "It gives kids the feeling that radiology can be approachable and lets them know that they have a voice in their own care."
Pediatric patients at the Carle are able to avoid sedation 90% of the time after working with child life specialists and using certain tools.
Before he became chief operating officer of MRI Audio, Keith Prince, was the chief executive officer of Sharp and Children's MRI in San Diego.
By using a video product, the staff there saw an anecdotal 50% to 60% success rate for not sedating pediatric patients. While sedation is risky, it can also mean the difference between getting the exam right the first time and repeating it.
"Depending on the exam you do, it can be an hour of table time and if you miss that you can lose revenue," Prince said.
MRI Audio recently received FDA 510(k) clearance for a video product. They are currently testing prototypes at three facilities before full production in May.
The product will also help monitor patients that end up needing anesthesia, with a camera that shows the patient's face from inside the bore at the technologist's console.
"You can look at their face to see how well they are tolerating the scan," Prince said. "I think this has potential to change the way anesthesia is administered. It also may be able to reduce the amount of anesthesia that's required."
'Feed and sleep'
Newborn and infant patients undergoing MR exams don't have to contend with the fear factor, but they are often sedated for spontaneous breathing MRs. The University Children's Hospital Basel conducted a case study of selected situations in which the exams can be carried shortly after the patients are fed and immobilized in a stable positioning aid, such as the BabyFix Cocoon from Swiss company Pearl Technology.
Since this method was used, numerous newborns have been examined with "'at least satisfactory image quality' in a natural sleep state," according to the case study.
"Even when moderate sedation using chloral hydrate is still carried out as required, the success rate of the 'feed-and-sleep MR' has been gradually increasing," the case study reads. "The selection of suitable patients, the implementation of clear processes in interdisciplinary teams and the choice of appropriate aids, thus, play a decisive role in the success and the acceptance for patients, parents and clinical professionals."
"More and more of the leading teaching as well as pediatric hospitals in Europe and the U.S. are implementing a feed-and-sleep approach for MRs of newborns to minimize the impact of the procedure on the well-being of the little patient and in order to reduce the potential risk associated to sedation," said Dr. Thomas Müller, founder and general manager of Pearl Technology. "The BabyFix Cocoon is the only immobilization and positioning device that is specifically dedicated to the imaging of newborns from 2 to 5 kilograms. With that being said, all aspects of the product were developed to offer safe conditions for the newborn throughout the MR scan, and to make the successful conduction of MR scans as likely as possible. The unique features of the BabyFix Cocoon enable users to optimize the entire workflow of feed-and-sleep MRs, offer superior stability and comfort and therefore, contribute to improved outcomes."