If you've ever undergone a diagnostic imaging exam and came out of it without having experienced any anxiety, count yourself among the lucky (or brave) few.
For all the medical value that comes from it, climbing into a scanner, especially something as loud and time-consuming as an MR bore, can be extremely unpleasant. One 2018 study published in the journal La Radiologica Medica found that 91 percent of patients receiving diagnostic imaging services reported high levels of anxiety.
How a patient feels is more important than ever, now that their satisfaction is tied to reimbursement. But the question is, how can you alleviate their anxiety while also addressing clinical outcomes and financial constraints?
The most common reason patients fear MR exams is due to claustrophobia. It's natural to feel uncomfortable in an enclosed space for 45 minutes, but some patients are not able to tolerate it. Even worse, according to a 2007 article published in the Journal of Magnetic Resonance Imaging, claustrophobic patients abort around 2 million MR scans around the world every year.
The loss of productivity and additional costs that come from cancelled scans have made wider-bore MR units increasingly desirable to providers hoping to minimize the impact of claustrophobia on their patient throughput.
Noise is another common complaint. The noise level during scanning can reach up to 110 decibels, which is equivalent to a loud rock concert, said Joseph Caruso, chief operations officer at MRIaudio.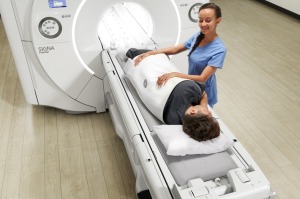 On top of everything else, it's easy to forget that people receiving MR scans are usually getting them done because there could be something serious going on inside their body. That can often be the biggest source of anxiety, and it's something providers and technologists should take into consideration.
"We have to continually remind ourselves that for us it might be just a normal day at work, but for the patients this an event that breaks their daily routine," said Christoffer Remøy Endresen, marketing director at NordicNeuroLab AS. "An MR exam is something one does a few times during a lifetime."
HealthCare Business News spoke to several companies that are investing in ways to improve patient comfort. Some are introducing audio systems, visual aids, themed environments and infotainment accessories while others focus on the design of the MR system itself.
MR suite or tropical oasis?
One of the most immersive and dramatic ways to improve the patient experience in an MR suite is to create a themed environment. That could mean everything from calming, ambient lighting to turning the exam room into a tropical beach oasis. Transporting patients out of the medical atmosphere and into a setting that feels welcoming and inviting is an effective way to combat anxiety.
Companies like Dream Think Imagine (DTI) and Character Farms specialize in creating 3D facades that wrap around MR scanners like a skin to transform them into something almost unrecognizable. Whether it be a sandcastle theme in a pediatric clinic or a more subtle ambiance blending ambient colors and lighting for adults, changing the atmosphere can help patients feel more peaceful in medical settings.
"The most meaningful and effective way to really curb anxiety is to create a total immersion experience," said Mark Sullivan, president of Character Farms. "[When] the patient walks into the room and the first thing they see is a place, not a machine."
Character Farms customizes their designs to fit individual scanners. The facades, which are held in place by wooden dowels and industrial-size Velcro, can be broken down into four or five pieces.
"Having a calming or fun environment versus a sterile, scary one can be the difference in how a patient rates their experience, and the patient experience is a critical component for healthcare in today's society," said Sullivan.
A 2011 study published in the Health Environments Research and Design Journal revealed that introducing distraction conditions leads to calmer behavior and less movement. It also found that these conditions are significant "attention grabbers" for children.
Projectors, televisions or goggles?
Another way to take the intimidation out of the MR environment is by providing an escape via digital entertainment. Avotec recently introduced a new projector called the SV-6060, which Canon has integrated into its MR Theater offering.
Avotec chose to offer a projector instead of a television monitor or goggles because they believe it provides more flexibility in the image size.
"When you put a screen at the end of the bore and have a projector projecting on it, it's a pretty immersive experience," said Paul Bullwinkel, president of Avotec. "When a patient goes in with a head coil, there's a mirror that they can use to look at the projected image."
The SV-6060 is set up to play media from DVD players, computers and mobile phones. The patient can log into the system and play their own personal media instead of having to choose from a pre-made queue.
In addition to skins and sculptures to transform the scanner environment, DTI also offers its customers animation experiences that can easily be added to any imaging gantry.
"Our iMotions projection system is an award-winning patented design, with vivid imagery and a patient-friendly app that allows access to our video content library," said Wendy Hamacher, the company's sales and marketing manager.
NordicNeuroLab went a different route and offers customers its 40-inch 4K UHD InroomViewingDevice, VisualSystem HD goggles and AudioSystem headphones.
"Attention is moved toward something positive and entertaining, which helps the patients to be calmer, and a 30- to 60-minute scan won't feel like a long time waiting," said Remøy Endresen.
This year at RSNA, Cambridge Research Systems will be unveiling its Rapport entertainment solution for the MR suite. In addition to being a complete entertainment system, Rapport also provides a two-way audio and video link between the MR patient and technologist.
MRIaudio currently offers pneumatic headphones that play music and allow the technologist to communicate with the patient during the exam, and the company plans to release a visual entertainment solution to pair with its audio systems.
"Our product lines are ever evolving and adapting to market demand," said Caruso. "Providing both audio and visual entertainment during scans will allow patients to feel more comfortable in this very stressful environment."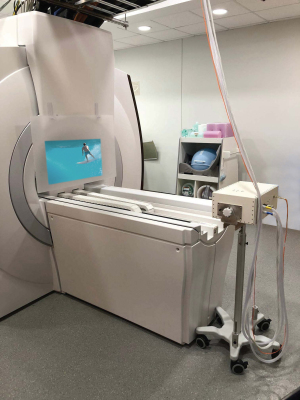 Designing a more patient-friendly scanner
When it comes to patient comfort, most of the MR manufacturers choose to focus their energy on the design of the system rather than add-on accessories. Hitachi Healthcare Americas is leading the open-bore field with its 1.2T Oasis MR with an 82-centimeter patient table.
Hitachi still offers visual and audio products, but the company feels that isn't always necessary since the patient has a 360-degree view during the exam. Because of that, the company partners with other companies such as MRIaudio to provide the add-ons.
"The Oasis is so patient friendly already," said Jason Miller, executive director of radiology products at Hitachi. "The patient can look out the entire time they are being scanned and they can have someone accompany them in the room and even hold their hand."
Hitachi has been in the open-bore MR market segment for about 30 years now. In the past, other companies offered open units at lower field strengths, but now that Hitachi is up to 1.2T it may have chased some of the competition away, said Miller.
"It's a challenge to make a vertical field magnet that can perform equal to a 1.5T horizontal field magnet, but we have more expertise so we stayed in this area and we have been able to do just that," he added.
GE Healthcare and Philips have fleets of wide-bore 1.5T and 3T MR scanners that span up to 70 centimeters. The companies also offer sound-reduction technology — GE's is called Silent Scan and Philips' is ComforTone.
GE recently released its lightweight AIR technology coil suite. These new coils resemble cozy blankets, unlike the traditional bulky coils.
"The more comfortable the patient feels, improves compliance with the exam," said Bryan Mock, general manager of MR 3T segment at GE. "This reduces motion-related artifacts since it's easier for patients to remain still when the experience is relaxing and calming."
Canon Medical offers its MR Theater on its Vantage Titan, Vantage Orian and Vantage Galan scanners, which projects peaceful, virtual reality images onto a dome-shaped screen inside the bore. Canon's Pianissimo quiet scan technology reduces acoustic noise during the scan and allows patients to listen to in-ear audio.
Siemens Healthineers also has a fleet of 70-centimeter bore MR systems and technology called QuietSuite that dampens the noise, but recently the company has been putting their efforts into the infotainment side of things. It's currently working with a third-party vendor to develop an immersive patient experience technology called Innovision for the MAGNETOM Altea that creates the illusion of a larger bore while simultaneously providing video entertainment.
The business side of things
It's a given that happy, satisfied patients are more likely to return to your facility, if needed, and recommend you to their family and friends.
"Providing a good patient experience can make a big difference to the top- and bottom-line for a hospital," said Harry Klijn, MR product manager at Philips. "A good patient experience can attract more patients, creating patient loyalty, making their referring physicians confident to refer more patients to the same facility, and improving the overall reputation of the provider."
When there are many options for where to get an MR done, Avotec's Bullwinkel believes patients will do research online to figure out which providers are getting positive reviews. "From a business point of view, being compassionate can be a competitive edge," he said.
When patients are at ease, workflow is more seamless. They are less likely to move, which allows clinicians to complete the MR exams quickly and the images are higher quality.
"It eliminates the need for patients to be sedated with medication to perform the exam, enabling health care providers to complete more efficient, effective scans for both increased patient satisfaction and throughput, as well as clinical confidence," said Jonathan Furuyama, managing director of the MR business unit at Canon.
If those aren't enough reasons to take comfort in the MR seriously, the transition to value-based care is now making it so patient experience will affect your bottom line.
Under the Hospital Value-Based Purchasing Program of the Centers for Medicare and Medicaid Services, patient satisfaction makes up 30 percent of the measures of and payments for quality of care.
The Hospital Consumer Assessment of Healthcare Providers and Systems (HCAHPS) survey is what is used to determine the patient's level of satisfaction. It presents discharged patients with 27 questions regarding their hospital stay, which could include an MR exam.
"Hospitals are starting to measure quality of care through the lens of patient experience and satisfaction," said GE's Mock. "I think it's very important for a department to think along these lines, primarily because it can make the department a lot more efficient and improve workplace satisfaction."