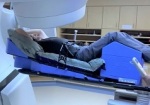 CDR Systems introduces the PowerWEDGE radiation therapy positioning device with patient comfort in mind
August 20, 2019
Calgary, AB CDR Systems launches the PowerWEDGETM specifically designed to improve the experience for patients that struggle with laying flat on their back, the most common treatment position for the treatment of cancer using external beam radiation therapy. The PowerWEDGETM provides an angulation option for patient immobilization that previously could only be offered in a lay flat position. This new all-in-one medical device is designed to enhance patient comfort and setup accuracy through improved comfort and is offered with 8 additional module attachments ensuring patient setup can be tailored for a wide range of treatment needs, including: cranial stereotactic (SRS), Body Stereotactic (SBRT), head and neck, breast, lung, liver, spine or pelvic treatments. More information can be found at www.cdrsys.ca

"It is clear a significant subset of the patient population struggle to lay in a flat position and a solution that upholds inter and intra patient positioning accuracy without compromising comfort was needed. We have created the PowerWEDGE to answer just that. Carl Denis, CEO at CDR Systems.

For an introduction to CDR Systems:
• Booth# 1445 at the ASTRO 2019 Annual Meeting, September 15 - 17, 2019 McCormick Place WestChicago, IL.
• Schedule a collaborative in person demonstration with a CDR product specialist right in your radiotherapy department.
• Web based eDemo hosted by a CDR Product Specialist streamed right to your conference room, tablet or personal computer.
• Toll Free: +1-855-856-7035 or www.cdrsys.ca


About CDR Systems
Founded in 2002 and headquartered in Calgary, Alberta, Canada CDR is a global leader in the design and manufacture of world-class & innovative patient positioning systems and associated consumables to radiation oncology centers of all sizes.

CDR Systems aim is superior outcomes for both patients and healthcare providers around the world. Our products play a vital role in the accuracy of a cancer patients radiotherapy treatment.