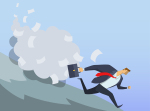 Getting ahead of the digital health avalanche
May 23, 2019
By Mike McSherry

Although no one can agree on what digital health is, everyone agrees that digital health is here to stay, and many hospitals are struggling to keep up with the pace of change and development.

Doctors are now prescribing more than medications — adding fitness trackers, meal delivery services, transportation, patient education and home monitoring devices to treatment plans. These tools have fantastic potential of elevating patient care and tailoring treatments to best fit that patient, but we are currently in the Wild West of this field, where promise is high and standards are few.

Digital health tools can be exciting at first, but then often become "yet another" initiative added to the mix, with low utilization and engagement. The reality is that many times there is still a lot of manual work involved in incorporating these digital tools as well. How can a health system avoid devoting time and attention to a new tool with minimal benefit, especially when the return on investment is untested?

The right data at the right time
Hospitals are looking to incorporate digital health prescribing to maximize impact on care delivery, but with so many tools, the options can be overwhelming and one-to-one connections are not the answer. Digital health strategies need to be in place that assure data security while easily adding and removing tools, all while staying in the clinician workflow.

HL7 interfaces, technically, will make a connection. However, it opens a fire hose of all patient data, when only certain information is relevant to that downstream app or service. The maker of a diabetes-related device, for example, may only need a patient's A1C levels, and a transportation service cannot accept any protected health information (PHI). No one wants unnecessary PHI risk. The amount of data that is exposed should be relevant and time out when it is no longer required.

With the proper structure in place, new digital tools can be added in a fraction of the current average time, offered only to providers when the patient fits certain parameters, and delivery and analytics are enabled around usage of digital solutions to improve patient care.

Picture an electrical power strip. Devices are simply added without much effort and are removed just as easily when they are no longer needed. Once that connection is terminated, no power or data is retained, reducing accidental risk exposure and letting IT staff focus on other projects.

Automation driving efficiencies
Many medical procedures require patients to have consistent products prior to the procedure. Knee surgery may require items in the home, for example, such as a shower chair or a walker. Additionally, there are consent forms and patient education materials that need to be reviewed and completed prior to the procedure.

Patients turn to their medical providers for trusted advice. About half of calls to maternity departments are product-related and many dermatology visits involve patients asking for over-the-counter product recommendations. Why does each request have to be manually addressed? How much simpler would it be if a person coming in for a procedure was automatically sent the required materials or a new mom emailed a list of recommended supplies?

Instead of clinicians manually ordering these items, parameters can be established to automatically trigger these orders when a procedure is scheduled. These parameters can also initiate an insurance formulary check, so providers are only shown those options that are covered by the payor. Automation eases the clinician workflow and informs patients, which can lead to better adherence to treatment plans.

Analytics informing strategy
At the end of the day, hospitals need to know that the initiatives they are devoting time and resources to work. Analytics can show who watched the patient education video, completed the requested paperwork, arrived via the transportation service and used the CPAP machine as directed, which can be of elevated importance leading up to a heart procedure.

Data can also determine how certain subsections of patients respond. No persons are the same and technology can incorporate social determinants to offer clues about what intervention options and communication approaches will work with different patient populations, further improving patient retention and adherence rates.

Healthcare has entered a new era, where patients expect tailored, convenient care. Especially in today's age of transient patients, hospitals need flexibility and convenient care strategies to remain competitive. Integrating digital health tools in a way that engages patients, while also considering what is covered by insurance and fitting within the physician workflow, will help healthcare organizations retain patients and help them be more compliant with treatment recommendations.

Mike McSherry is CEO of Xealth, a platform for digital health, enabling clinicians to order and monitor digital tools from within the EHR workflow.