In collaboration with the European Society of Radiology, Siemens Healthineers built and unveiled last week its first Digital Experience Hall at the 25th annual European Congress of Radiology in Vienna.
Complete with lectures on digitalization and demos of concepts and different forms of technology currently under development, the purpose of the hall was to create discussions among visitors about the opportunities that digitalization has or is expected to bring to radiology for physicians, healthcare professionals and patients, as well as the entire healthcare industry as a whole.
"It's an exchange of ideas," Dr. Dagmar Thomsik-Schröpfer, told HCB News. "More and more people are talking about artificial intelligence and mixed realities and how they will work in radiology. We want to make them tangible so you can touch and use them to see how they work. The hall gives radiologists, and in the long-run, all doctors and everybody working the field, a chance to try out these concepts and see how they support their work."
Among the technologies shown was cinematic rendering, a photorealistic way of visualizing datasets in 3D. The feature will be available as an app on HoloLens 2.
Attendees at the Digital Experience Hall, however, got a sneak-peek experience of this function by donning a mixed-reality headset that enabled them to not only visualize an organ in 3D but interact with it, using their hands to move it around to different angles and make segmentations.
Such capabilities are expected to provide greater support to OR teams in preparation for procedures, as well as provide greater understanding to patients on the issues they face and why exams they undergo are necessary and helpful, according to Siemens.
"Up to now, you can only see 3D illustrations on 2D displays. With this technology, we are able to display 3D volumes also on 3D output devices, to have better special understandings," said a spokesperson for Siemens.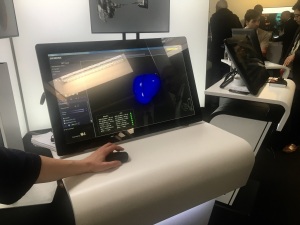 Another technology shown was Digital Twin, a concept that would enable clinicians to create digital computer model representations of a patient's body parts. The program would enable users to perform a number of tasks on the computer model to determine the best approach for addressing issues in reality, such as applying cardiac resynchronization therapy on a patient's heart.
"There are a lot of non-responders with CRT. Thirty-two to fifty percent of patients do not respond. It means you are performing a very long surgery, and the patient may still not answer at the end of the day," said Chloe Audigier, a researcher at Siemens. "A technology like this could save time for the radiologist and for the patient by allowing you to predict if the therapy would work. The more you can predict that, the chance of a patient not responding, the more efficient you can be with it."
Though launched by Microsoft in February, commercialization of HoloLens 2 is not expected to begin until the fall of 2019. Digital Twin, meanwhile, is a concept of a potential capabilities that Siemens is only examining at this time, with no concrete plans as of yet to develop and commercialize it as a finalized product.
For spectators like Lauren Kennedy, a fourth-year radiography student at University College Dublin, however, the chance to see these technologies up close is an exciting look at what the future potentially holds for her profession and healthcare as a whole.
"There are so many people coming in and out, just having a look," she told HCB News. "The hall is really promoting the potential for AI and digitalization not just here but everywhere, because now people are going to go back to their own countries and relaying what they have seen."