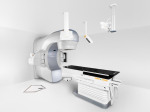 Brainlab's ExacTrac to be integrated with select Varian linac systems
April 05, 2018
by
Lauren Dubinsky
, Senior Reporter
Brainlab announced on Tuesday that it struck a deal with Varian to integrate its ExacTrac tumor motion detection technology with TrueBeam and Edge linear accelerator systems.

"The new agreement with Varian opens up Edge for a third party device, which Varian has been marketing as a 'closed platform,'" Stefan Vilsmeier, president and CEO of Brainlab, told HCB News.

As part of the agreement, the companies will conduct joint testing, verification and validation.

ExacTrac is an in-room X-ray-based monitoring system that detects intra-fractional tumor motion regardless of the couch angle or gantry position. Only versions 5.x, 6.x and new product generations currently under development are included in this deal.

The technology ensures that the same treatment plan automatically loads on all systems involved, and provides DICOM RT export of the ExacTrac positioning data to Varian's ARIA oncology information system. That allows any detected patient setup errors to be corrected automatically.

Varian and Brainlab have been working together since 1996. Prior to this new deal, the companies partnered in December 2016 to integrate ExacTrac 6.2 with Varian's PerfectPitch six-degrees-of-freedom couch.

"Integrating Edge will give more customers access to Brainlab's leading patient positioning technology for radiosurgery, especially for treating brain metastasis," said Vilsmeier.

Brainlab doesn't exclusively work with Varian – it has also partnered with Elekta to integrate ExacTrac with the company's Versa HD, Axesse, Infinity, Synergy and Precise linac. ExacTrac can also extend the capabilities of Siemens Healthineers linacs.