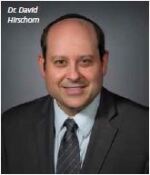 IT Matters - Radiology workflow orchestration
December 26, 2017
by
Sean Ruck
, Contributing Editor
Dr. David Hirschorn is the chief of informatics, imaging service line, Northwell Health.

He founded the New York Medical Imaging Informatics Symposium in 2010. This year marks the first that NYMIIS and the Society for Imaging Informatics in Medicine (SIIM) held a joint regional meeting. HealthCare Business News spoke with Hirschorn fresh off his presentation about the emergence of workflow orchestration in radiology to learn more about the topic.

At its heart, radiology workflow orchestration seeks to accomplish the key goals that run throughout the health care industry. They include reducing cost, streamlining process and improving the patient experience and outcome. According to Hirschorn, one of the first facts to recognize about workflow orchestrators is that not everyone needs them.

"Only the larger places need them," he says. "But most facilities are becoming, or will someday become, part of a larger organization. The larger conglomerates and health care systems, those that are part of a bigger enterprise, can benefit. And that's the trend."

One of the surprising points Hirschorn made was that this is one of the rare instances where health care wasn't playing catch-up to an existing technology. Hirschorn points to EMRs as a technology where health care was playing catch-up and still is going through growing pains today.

"We were 30 years behind harnessing the power of EMRs. We're talking about meaningful use now, but what does that tell us? We had meaningless use for all those years before?"

Unlike many of the other processes and technologies introduced to health care that had started in other industries, this time the emergent property belongs to health care. The other positive news is that it wasn't something that was languishing for years before it started to be adopted. Its introduction occurred once the pieces were in place.

"It grew out of something we already had," says Hirschorn. "There wasn't a need for it when workflow and facilities were smaller and simpler. It only became cool and powerful once there were enough studies being read by enough radiologists."

Previously, to find information on a patient, the billing system was often the go-to. Procedures were noted there since that information was needed for proper invoicing. But that information was finite and didn't give all the details that could be helpful in planning for or delivering the best care.

"There's a natural way of dividing work along the lines of modality used and body part," says Hirschorn.
That all works into what the procedure costs.

So billing information is very limiting.

"While no radiologist would say, 'I'm a CT/abdomen person,' because they're really trained in a variety of disciplines, there are some radiologists that have their expertise modality-based. Someone in nuclear medicine is trained to read a specific modality, or a specific body system. And that's one of the places where workflow orchestrators provide great benefit."


So while patient information could be pulled at a very shallow level from billing systems, reports to help workflow management leaned on two other systems, PACS and dictation programs. Hirschorn says PACS was more often used since those systems were usually in place before a speech recognition system. Since PACS and speech recognition systems have other specific purposes in mind, at best they're workaround systems.

"What do you have to work with for PACS in the way of list making? Is there something for instance, that labels each exam as neuro or musculoskeletal? No, because that's not information that PACS needed," Hirschorn says.

Since the early days of PACS, up until around 2010, most of the information provided only detailed modality and body part imaged. A chest CT or an MR of the head, for example. And for over a decade, that was typically good enough. It covered most of what a radiologist needed, or in some cases they might need to check an additional list – like ultrasound, since not everyone reads ultrasound. If it's a dozen radiologists or so, 30 lists total could be manageable. But Hirschorn says it gets unmanageable once you multiply that number by 10 or more and you realize there's more that can be done. By using workflow orchestrators, it's possible to rightsize the radiology departments across a health care system. Load sharing becomes possible, meaning that a facility isn't forced to choose between holding off on scans or having radiologists with a different area of expertise stepping in when the pediatric radiologist is sick or on vacation. Load sharing also enables health care networks to improve the work/life balance by shifting work around. If one facility is light on work and another might have their team staying until 8 p.m., there are solutions. Workflow orchestration helps to make multi-hospital systems work in a more coordinated way as a whole rather than a collection of parts.