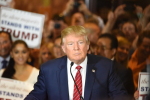 Trump is our President - let's move forward
November 09, 2016
The United States electorate has made its decision and Donald Trump will be the President of the United States for, at least, the next four years.

The Republicans control the House and the Senate as well.

I hope that we can get together as a country and get things done.

I listened to Mr. Trump's acceptance speech and — like everyone else is saying — I agree he took a more positive tone.

All politicians everywhere make promises during the campaign, some they can keep and some they cannot. In the next few months, we will learn more about Mr. Trump's plans and hopefully learn more about the direction that the U.S. will be taking.

I am glad the election is over. I hope we can get down to improving our infrastructure, creating more jobs and improving the economy. If President Trump is able to do that, I will be glad.