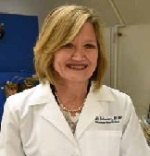 Q&A with Sally W. Schwarz, 2016-2017 President of SNMMI
June 13, 2016
by
Sean Ruck
, Contributing Editor
Sally Schwarz has worked in the field of nuclear medicine in a variety of roles. She began her career in the field when it was just starting to grow. She's worked in it as it has evolved, and as the next president of the Society of Nuclear Medicine and Molecular Imaging, she is going to have a greater role in directing its future. Health- Care Business News spoke with her about her past, present and future and how that parallels nuclear medicine's history.

HCB News: How did you get involved in health care?
SS: Originally I got into pharmacy because of my father. He was a traditional pharmacist with his own business and I started working for him when I was about 12. He had a clinic-based pharmacy. He essentially served medical needs, the basic cough and cold. His pharmacy rented walkers and wheelchairs and then expanded to hospital beds. He started with a soda fountain [and] progressed to a professional pharmacy.

After high school, I went to pharmacy school. I always liked chemistry through high school. My mother was very encouraging toward pharmacy as a profession. My mother had a four-year scholarship to a college and her mother wouldn't let her take it, so she went to business school. But for her daughters, she wanted them to go where they wanted.

I went to the University of Iowa and got a Bachelor of Pharmacy degree. I then worked at the VA for a number of years, then I moved to Colorado and worked in retail pharmacy, but it didn't hold my interest. I was interested in the chemistry side. I decided to return to school and looked into hospital pharmacy and nuclear pharmacy graduate programs. I was introduced to nuclear pharmacy at the Veteran's Administration Hospital in Iowa City, Iowa. They were advertising the University of Southern California program. The VA was interested in encouraging the practice of nuclear pharmacy because they were interested in staffing all the VA hospitals in the United States with nuclear pharmacists. I received my Master's from the University of Southern California, so USC is my alma mater. I truly enjoy nuclear pharmacy. It combined my interests in pharmacy and chemistry.

I wasn't educated formally in nuclear pharmacy in my undergrad curriculum, just a brief touch in one of my chemistry courses. Clinical nuclear medicine began in the 1960s at the University of Chicago. When I was graduating, it really hadn't made it into an educational focus for pharmacy. As it evolved, there was [the] need for pharmacists to be involved to prepare radiopharmaceuticals.

The VA was providing scholarships for people to attend the USC Nuclear Pharmacy program. It was an intense 12-month program with the last three months being internships. The didactic and laboratory program went from 8 a.m. to 5 p.m., five days a week. Four VA hospitals in southern California hosted the summer student internships. You were able to observe nuclear pharmacy at each hospital. All were a bit different. The San Diego VA was the newest and most exciting location, and was also involved in nuclear medicine research.

When I graduated from the program, I was hired by Michael J. Welch, Ph.D., and Barry A. Siegel, M.D. to come to Washington University in St. Louis, to work in both traditional nuclear medicine and in radiopharmaceutical research. I am still there today. I think nuclear pharmacy has progressed tremendously. In traditional nuclear pharmacy Tc-99 was the primary radionuclide utilized for clinical studies. Nuclear pharmacists were often involved in preparing the non-radioactive kit formulations (kits). These were used for preparing Tc-99m-labeled radiopharmaceuticals.

Kits could be purchased from manufacturers, but in-house production by the nuclear pharmacist helped reduce the cost of the final products. Today, everything is produced by commercial manufacturers. In 1995, I moved from traditional nuclear medicine to oversee the production of F-18 labeled fluorodeoxyglucose for use in PET. Managing FDG and other PET radiopharmaceuticals gave me the opportunity to be more involved in chemistry, which was very exciting to me. During the interval from 1995 to 2014, FDG production went from having no direct FDA oversight to requiring that it be produced under FDA regulation in 2012. Since 2012, we have had to become an FDA manufacturer and submit an application to the FDA to be able to continue to produce FDG. It's been a very interesting journey.

HCB News: What's the major initiative or initiatives you plan to push during your time as president?
SS: The current president has opened a Therapy Center of Excellence, and in my opinion therapy is an important direction for nuclear medicine. I plan to launch a Qualified Person Training Program to train individuals — chemists and pharmacists — in the release of radiopharmaceuticals, including PET, SPECT and therapeutic radiopharmaceuticals. I want to develop a curriculum that takes into consideration all the aspects needed for releasing a drug. It would deal with media fill testing, aseptic process, radiopharmaceutical formulation, release specifications and all the regulatory requirements — including FDA 21 CFR Part 213, USP chapters 823 and 797. There is a need for pharmacists and chemists to be cross-trained in all of these areas.

HCB News: Are there any big developments for SNMMI that you'd like to highlight?
SS: SNMMI is working on developing Appropriate Use Criteria for nuclear medicine procedures. The Protecting Access to Medicare legislation detailed the delivery of AUC via a clinical decision support tool which referring physicians would need to utilize before ordering advanced diagnostic imaging services. The SNMMI Evidence and Quality Department has started laying the groundwork to form multidisciplinary workgroups to develop AUC. This process will take a number of years to complete. We have also seen some exciting work in the area of new imaging drug development. The Society will continue working with the FDA, the National Cancer Institute and others to push forward advancements in the next generation of imaging agents.

HCB News: What tops the membership's wish list for what they want from the Society?
SS: I think members want interaction. They want to feel that there's something they gain from the Society. Overall, the SNMMI is working to reach out to the younger generations and understand how they view the world, and how they want information provided to them. Young people are our future, and we need to understand how we can work together. I think young professionals tend to stand back, but we want to encourage their involvement and show them it's worthwhile to be involved.

Another area of importance is the supply production of Mo-99, which is the source of the Tc-99m used in traditional nuclear medicine. The Canadian reactor, which in the past was the primary supplier of Mo-99 for the U.S. market, will be stopping routine Mo-99 production in 2016, but it is going to remain in standby mode for emergency needs. The supply of Mo-99 is now being produced at a number of reactors throughout the world, including Belgium, France, South Africa and Australia. The U.S. DOE/NNSA has also developed a program to encourage development of U.S.-based Mo-99 production without the use of [highly] enriched uranium.

There are currently three active cooperative agreement partners. Since the U.S. is the largest user of Mo-99 in the world, it makes sense to have Mo-99 production available in the U.S. As the SNMMI representative, I have been attending the High-Level Working Group, Mo-99 meetings, which include most of the producers in the world involved in the production and supply of Mo-99 and generator production. This includes the non-reactor-based producers that are under development in the U.S. This HLG Mo-99 group has worked to ensure that an ongoing reliable supply of Mo-99 will be available as needed for clinical use throughout the world.

HCB News: Is there anything new you'd like to highlight for the upcoming show and conference?
SS: Since SNMMI is an international society, we're starting a program to focus on a country other than the U.S. that has been significantly involved with SNMMI. This year, we'll be featuring Japan as the first country. Their physicians and scientists have provided a large number of abstract submissions, and they've been very involved in collaborations and in attending our annual meetings. Each year, we will feature another country involved with SNMMI meetings and activities. I think that's an excellent opportunity to increase collaboration and say thank you.

HCB News: What are the biggest challenges facing SNMMI today?
SS: Nuclear medicine is positioned on the cutting edge of medicine, and health care delivery is changing. This means that we must concurrently address multiple issues involved in that change. I think there is a challenge between technologies as to what is the best tool to use for diagnosis of disease. We need to gather the data that allow us to demonstrate that nuclear medicine is able to direct or change patient management in a cost-effective way. We additionally have to be aware of the problems with reimbursements, and work to address those problems.

HCB News: What abilities will nuclear medicine physicians need to be competitive in the future?
SS: Training is important in multiple modalities, including PET/CT, PET/MR and SPECT/ CT used for diagnosis and following therapy. Molecular imaging training involves more sophisticated imaging than in the past and the development of new agents will continue to increase training requirements. Radionuclide therapy is a growing area that will require training emphasis. You also need to have a business understanding, including dealing with reimbursement and third-party payers. This broad scope needs to be understood and planned for in the training of future nuclear medicine physicians.

HCB News: Is there anything particularly exciting in the realm of radionuclides?
SS: I think one exciting area is theranostics. This utilizes nuclear medicine imaging for diagnosis, followed by targeted radionuclide therapy. Additionally, this diagnostic imaging can also be used post treatment to follow the patient's progress. One new combination for the U.S. is Gallium-68 for diagnostic imaging and Lutetium-177 for therapy. These paired radionuclides are being used to diagnose and treat neuroendocrine tumors. Zirconium-89 is a newer radionuclide being utilized for diagnostic research for antibody radiolabeling, and Copper 64, which has been used for quite a while, is more involved in clinical research imaging.

HCB News: What do you think the field will look like 10 years from now?
SS: The future is difficult to predict. I see an increase in the use of diagnostic radiopharmaceuticals to guide the progress of therapy, and an increase in the use of radionuclide therapy.