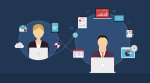 Technology Advisor – The reasons why digital health initiatives fail
March 23, 2016
By: Bipin Thomas

There is growing consensus that transitioning to digital health is fundamental to achieving a financially sustainable health care system in the U.S. Health care organizations are scrambling to execute digital health strategies from mHealth to data analytics. The term "digital health" has been used as a buzzword and meant many things to many people. Now it seems foolish to have a digital strategy. You just need a business strategy for the digital age. Whether it's Oscar reinventing the health insurance business, ChenMed changing the care delivery model or Teladoc disrupting telemedicine, what binds these companies is they brought digital thinking to the very heart of their companies, and not just bolted it onto the side.

Oscar is using technology and design to make health care simple, intuitive and human. Sixteen months after going live, Oscar has joined the elite group of startups known as unicorns, or those with billion-dollar valuations. Through user experience, customer service and innovative care options, Oscar attempts to expand the role of the health insurance company to a health services provider. Among its innovations are an intuitive website — type in symptoms in plain English and receive a list of prospective treatment providers — free calls to doctors and more price transparency.

Teladoc is a national network of U.S. board-certified physicians and pediatricians that lets you resolve your routine medical issues, on-demand 24/7, via phone or online video consultations. Teladoc doctors can diagnose many medical problems, recommend treatment and can even prescribe medication if necessary. Teladoc is an affordable alternative to costly urgent care and ER visits for non-emergency medical care.

ChenMed is devoted to elderly people who may have multiple chronic diseases. It profits when they are kept well and their health care costs are kept low. ChenMed has vans to take patients to and from its clinics. Patients wave a card at the front desk and are automatically checked in. Staff perform a tightly choreographed routine, with advanced data analytics to find further improvements.

Examination rooms circle a central hub so that doctors can confer easily with assistants and specialists. A mobile app lets doctors see patients' medical records and refer to clinical protocols. The clinic has a pharmacy, so doctors give patients pills directly and answer any questions. Most administration is centralized elsewhere, so staff at the clinic devote their attention to treatment. Medicare patients at ChenMed spent nearly 40 percent fewer days in the hospital than the national average.

These companies realize that the modern age is a time of scarce attention and abundant connectivity, where smartphones are our primary access point to everything, where money is digital, where the interface layer is where the profit is and where providing a slick, best-in-class human experience will create the most profound business. What these companies have all learned is that new technology is everything, and it's essential for every company and every person to be cognizant of the possibilities it provides.

Technology is not oil to lubricate. It is oxygen to grow ideas and change business. Modern businesses need to disrupt themselves at the very core, empowered by what new behavior and new technology make possible. Health care companies need to re-evaluate their roles in catering to 21st century consumers. Health insurance companies need to use technology to become health partners. Banks need to become health care payment solution companies. Why didn't a national health insurance company invent Oscar? Or a leading geriatrics hospital start ChenMed or a major health system launch TelaDoc?

Digital transformation is not about a digital department. A chief digital officer won't save your company. It is not the role of any additional unit to take your company from irrelevance to leadership. It's a philosophy that all must adopt. It's not having a better app than your competitor, it's to reconsider the entire value chain and relationship with consumers over their lifetime. If you're a hospital, use technology to bring to life everything that care delivery and personalization can be in the modern age.

There are numerous examples where technology is added at the edges. I can use a decent app to review my health plan benefits, out-of-pocket expenses and look up doctors in my network. But that's it. If I want to find a provider with the highest rating or change wellness programs, it's a painful series of phone calls. Using technology in a deeper fashion would send me recommendations based on my clinical and claims history. More advanced technology may incentivize prescription adherence, routine tests and preventive care. These are ways to connect the entire value chain across the extended enterprise and boost patient satisfaction significantly.

You don't need a head of digital health or a digital department. In fact, you should banish the word "digital" as an entirely redundant word. You don't need a digital health strategy. You need an inside-out digitally transformed health care organization.

About the author: Bipin Thomas is a renowned global thought-leader on consumer-centric health care transformation. Thomas is a board member of HealthCare Business News and chairman of ICURO, a digital business outcomes management organization, where he is redefining personalized care delivery by connecting all stakeholders in the emerging health care ecosystem.