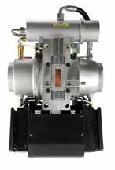 ECR 2016 New Product Showcase
March 07, 2016
DA 200 P40 CT Replacement Tube (Dunlee Expo X2, Stand 311)
The DA 200 P40 is a 6.3 MHU CT tube designed as a replacement for use in the GE Optima CT660* System. (*Product listed may be trademarked by the referenced OEM.)


Discovery 710 PET/CT System Mobile Medical Unit (Advanced Mobility and SMIT Mobile Equipment B.V. by Kentucky Trailer Expo X5, Stand 28)
In conjunction with GE Healthcare, Smit Mobile Equipment assisted in the development of the new Discovery 710 PET/ CT System Mobile Medical Unit. This is the first new PET/CT Mobile System GE has brought to market since the Discovery ST in 2003. New enhancements include:
• Modifying the twin I beam chassis to reduce wall weight
• Four extendable side walls to create a layout with two patient preparation rooms
• Lead shielding to comply with high patient throughput
• Reducing the power draw of the vehicle to downsize to a 35KW Generator


Vision RFD 3D (Ziehm Imaging Expo X2, Stand 312)
The new flagship Ziehm Vision RFD 3D has been specifically developed for high-end procedures in orthopedics, trauma and spinal applications. Thanks to our latest technical highlight, Smart- Scan, it is possible to generate a complete 3D cubical dataset with 16 cm edge length, while keeping the design of a conventional C-arm, and profit from the advantages of a variable iso center. Ziehm Vision RFD 3D is the first C-arm on the market that works with flat-panel technology and provides this level of outstanding 2-D imaging as well as the complete 3-D information during clinical interventions.


PaxScan (Varian Medical Systems Expo X2, C315)
Varian offers two wireless detector models: PaxScan 4336W and PaxScan 2530W. The lightweight, cassette-sized, portable 43 cm x 36 cm detector is optimized for dose efficiency and very low electronic noise. Even while the panel is inside a cassette tray, or below the X-ray table, the wireless transmission rates stay consistently high. The space-efficient 25 cm x 30 cm portable radiographic panel is designed with special imaging modes for use in imaging extremities, and is compatible for neonatal procedures as well as mid-sized radiographic applications such as dental Cone Beam CT (CBCT) and Ear, Nose and Throat (ENT) procedures. The 2530W panel has extended battery life and is interchangeable with the 4336W detector battery. Both panels offer superior digital image quality along with higher throughput, significant workflow efficiencies and the potential to enhance patient care and comfort for an improved experience.


REALiCE® visualization software (ContextVision Expo X1, Stand 505)
ContextVision's versatile visualization software — REALiCE® — has seen significant improvement for ECR 2016, with new features including the Photographic View, Skeletal View, Surface Rendering View and Depth Color-Coding View. These developments, combined with clearer imaging, provide more accurate fetus measurements, such as fetal abdominal diameter, abdominal circumference and femur length. REALiCE combines the GOPiCE® adaptive 3D/4D volume enhancement product with new true-to-data rendering technology, providing ultrasound manufacturers with high-end visualization capabilities and image quality. When integrated into ultrasound systems, REALiCE provides more accurate imaging to facilitate diagnosis and measurement. The adaptive view states — including lighting source controls, translucency, threshold, advanced cropping and tuning capabilities — help ultrasound manufacturers meet the demands of clinics and hospitals for better, more accurate ultrasound imaging.


Artpix™ EZ2GO (Richardson Healthcare Expo X5, Stand 42)
This is the perfect solution for your CR upgrade. Richardson Healthcare offers an easy and affordable solution to migrate to digital radiography with the Thales Artpix™EZ2GO portable DR system. The EZ2GO uses a wireless DR detector from Trixell, the leading supplier of high quality DR detectors with more than 60,000 detectors in use. The DICOM PACS software, ruggedized tablet, and lightweight flat panel detector with auto detection make it possible to upgrade any X-ray room or portable X-ray machine in a day. It's efficient,


Reevo 240G CT Replacement Tube
The Reevo 240G™ is an 8.0 MHU CT tube designed as a replacement for use in GE Lightspeed* VCT, Lightspeed VCT Select, LightSpeed RT16, LightSpeed Xtra, Lightspeed Pro 16 and Discovery VCT systems. (*All products listed may be trademarked by the referenced OEM).