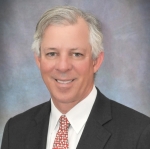 Q&A with Robert Robbins
April 15, 2014
by
Loren Bonner
, DOTmed News Online Editor
There's a brand new show in town this spring hosted by an unlikely pair: a renowned medical center in Texas and a German-based trade show brand.

Messe Düsseldorf — the host of Medica — has partnered with the Texas Medical Center to develop Medica's first North American event. Dubbed Medical World Americas, the show will be taking place April 28-30 at the George R. Brown Convention Center in Houston.

Dr. Robert Robbins is the president and CEO of the Texas Medical Center and chair of the Medical World Americas' Executive Advisory Committee. Robbins is also an internationally renowned cardiac surgeon, lecturer, author and researcher with focused efforts in acquired cardiac diseases. The former professor and chairman of the Department of Cardiothoracic Surgery at Stanford University School of Medicine joined Texas Medical Center in November 2013. DOTmed HealthCare Business News spoke to him about the inaugural event and what attendees can expect.

HCBN: What do you do in your role as the chair of the Medical World Americas' Executive Advisory Committee?
RR: I'm responsible for the scientific content at the show and then I'm also working my connections with the leadership from the big imaging companies like Siemens and GE as well as the big medical device companies like Medtronic and J&J to trying to encourage them to come.

HCBN: What kind of conference program have you assembled?
RR: It's a trade show, but also a scientific meeting. So I think 20 percent of the people exhibiting will drift over and learn about some new medical breakthroughs. And at the same time, most of the physicians going to scientific talks will want to go visit the exhibit hall. Half the speakers will be from the Texas Medical Center and half from around the world.

We are also organizing plenary sessions and then we've got different tracks including oncology, cardiovascular, emergency preparedness, and infectious disease. We build out the whole program with lectures for attendees to go to.

HCBN: Who do you expect to come?
RR: I'm hoping that because we're close to the Texas Medical Center, many people from the medical center will attend the meeting as well as people from the Southeast. We want everyone to come: doctors, hospital administrators, nurses, physical therapists, IT people, community physicians and also students from our campus — there are 60 to 80 thousand students on our campus and we think they can learn a lot from the show.

HCBN: Why did Texas Medical Center choose to be a part of this?
RR: I think it's important to be able to brand and market the Texas Medical Centers so this international audience knows "Texas medical centers" as a group is powerful — the collective "Texas medical centers" [including 54 institutions.] We will always will be competitive with hospitals but in specific areas — genomics, stem cells, regenerative medicine, clinical trials, health policy — we can all agree that this will take institutions coming together so that the sum of the individual parts is greater than the individual parts themselves. The rest of world is coming together in multi-institutional ways around these things and we should too.

HCBN: What do you want people to take away from the show?
RR: I hope we can provide cutting edge material. Attendees are going to hear the latest and greatest from MD Andersen about immunotherapy, targeted therapy, personalized medicine, the latest pumps and drugs and genomics used to predict which drug you'll respond to best. You'll hear about building a whole heart out of stem cells. I hope people will be educated about the next direction of where we're going and how they can plan for disasters and what health care changes will mean for them. So it's going to be a comprehensive program that will educate attendees on the scientific and clinical side, yet I want there to be a broad representation from the vendor side too where they can bring the latest and greatest CT scanner or electronic medical records.

HCBN: How unique is this collaboration between a renowned medical center and a major trade show brand?
RR: I don't know of anything like it. I think this is an unusual thing. The Texas Medical Center is really a medical city — we are like proud grandparents who brag about our grandchildren and we try to get them to come together for family reunions and holidays to work on important projects together.

HCBN: What impact do you think this kind of show can have going forward?
RR: For Houston, it can provide a platform to exhibit our great talents and highlight a program of clinical care discovery. It also allows us to showcase Houston — our city — to an international audience. We want it to be something people look forward to every year since it will be in Houston every year. We want people to develop relationships and new collaborations. So it's a good thing for Houston and a thing that will raise the profile of our medical center and will be economically beneficial for our city.