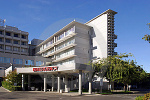 ACA spurs hospitals and health centers to work together
July 25, 2013
by
Diana Bradley
, Staff Writer
Under the impending health reform, community health centers expect increased funding and floods of new patients, with hospitals likely seeing a drop in both. Still, hospitals and community health centers alike concur, one is not a threat to the other under the new law.

In fact, the two systems seem happy to work together for the greater good — at least for now.

"Many community health centers work in partnership with hospitals to direct patients with non-emergent conditions away from the ERs to the health center," Amy Simmons Farber, director of communications for the National Association of Community Health Centers (NACHC), told DOTmed News. "Health centers reduce preventable hospitalizations and ER use among low-income and uninsured populations and save the health care system over $24 billion annually."

When it comes to hospitals and community health centers, there is "absolutely no competition," according to Jan Emerson-Shea, vice president, external affairs, California Hospital Association.

"It's not us vs. them," she told DOTmed News. "We all have a role in the health care system."

As far as directing patients to one system over the other, nothing will change, according to Farber. The focus with health centers has been and always will be treating people before they are sick with an illness that requires costly hospital care, she said. Health centers do this by offering affordable and accessible primary care with a range of services that can include pharmacy, pediatrics, dentistry, OB-GYN, and behavioral health — all under one roof.

"When people have access to an affordable and accessible 'health care home', they use it and stay healthy," Farber says.

Health centers now serve over 22 million people nationwide in 9,000 communities and stand ready to serve more as health reform implementation moves forward, according to the NACHC.

Hospitals and community health centers are in the same orbit in the health care system, according to Kenneth E. Raske, president of the Greater New York Hospital Association.

"[Community health centers] are not competitive, but rather complimentary to hospitals within the health care delivery system," he told DOTmed News. "Community health centers are an important cog in our health care wheel."

Funding and patient enrollment

Earlier this month, the U.S. Department of Health & Human Services Secretary, Kathleen Sebelius, announced $150 million in grant awards to 1,159 health centers to enroll uninsured Americans in new health exchanges. The funds are intended to enable community health centers to hire 2,900 outreach and eligibility assistance workers to help the uninsured enroll into affordable health coverage options.

Under the health reform law, the public will have more options for affordable primary care where they live and work. The Affordable Care Act provides $11 billion to expand the reach of community health centers so that the newly insured will have a place to go for care. By the same token, health centers are expected to double the number of patients they serve to 40 million by 2015.

Many of the clinics are beginning to prepare for an influx, despite not knowing how many patients will buy on the exchange or enroll in the Medicaid program. In the meantime, primary care staff, as well as workers that will go into communities to educate people about reform, are being hired by community health centers as they brace for new patients.

NACHC currently estimates that there are 60 million people without access to a primary care provider, and many of them do actually have insurance — just no place to go for care. By creating more "health care homes" where people have access to affordable health care, expenses will go down and a more efficient health care system based on prevention and wellness will emerge, according NACHC's Farber.

It's not all sunshine and lollipops for community health centers, though.

Although they recently received funding, centers are still struggling. In March, more than 5 percent of their base funding met the chopping block under across-the-board U.S. government budget cuts. According to the Kaiser Family Foundation, this means 900,000 fewer patients will be served by the centers and 3 million fewer visits will be accommodated this year.

Centers are relying on enrolling patients having some insurance from the ACA. In the meantime, health centers will survive by stitching together grants.

For hospitals, federal payments are being tied to surveys that gauge patient opinions on matters like noise, cleanliness, communication and pain management. The happier the patients, the more cash the hospital rakes in.

Nationwide, about $1 billion in payments will be based on hospitals' patient satisfaction scores and other clinical quality measures, under the health care law. Scores could impact patient retention.

Last month, a report issued by the American Hospital Association said 551 hospitals were acquired by other health systems between 2007 and 2012. This trend may be accelerated by the health law, reducing competition in markets and giving hospitals more leverage to raise prices.

By working together, community health centers and hospitals hope to mitigate funding and enrollment obstacles.