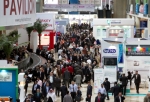 Special Report: Arab Health 2013 show preview
January 25, 2013
by
Sean Ruck
, Contributing Editor
You might call the Arab Health exhibition and congress the little trade show that could. What started in 1979 as a small-scale event attended by suppliers of beds, bandages and scanning equipment has grown up into an extravaganza of health care exhibitors and professionals from the Middle East, Northern Africa and around the world. Last year, more than 83,000 visitors attended, and this year promises to be even bigger. The event takes place Jan. 28-31 at Dubai World Trade Center, the region's largest purpose-built center for events and exhibitions, a sprawling complex that features a 39-story tower and miles of exhibition space.

The event, organized by Life Sciences Exhibitions and sponsored by the Cleveland Clinic Center for Continuing Education, will add more than 200 new exhibitors bringing the grand total to nearly 3,500. Arab Health also added new Plaza Halls, which will allow for additional space in the future.

Exhibitors from 63 countries will be on-hand to show off medical breakthroughs and technological developments. Attendees can also earn continuing medical education credits at 19 conferences, visit a special medical laboratory and technology event and check out groundbreaking industry innovators during an awards ceremony.

This year's important issues
More than 7,000 health care professionals will be seeking out the 18 CME-accredited conference courses and one new non-CME accredited course. Three of the seminars are new: Diabetes, Big Data and Complementary Medicine, each reflecting much-discussed topics in the region. Diabetes in particular is a significant point of discussion, as six of the world's top ten countries for diabetes prevalence are in the Middle East and Northern Africa, according to the International Diabetes Federation.

"Diabetes is a growing concern for both the government and population of the United Arab Emirates due to its health and economic implications," says Simon Page, managing director of Life Sciences, Informa Exhibitions. Other new offerings are "Big Data," a discussion on how to best utilize health care data to end medical errors and improve care, and "Complementary Medicine," a one-day session on homeopathy and the challenges insurance companies face when reimbursing natural treatment. The flagship conference, Leaders in Healthcare, will focus on a framework for the future of health care, Page says. "There will be discussions on enhanced quality and preventive care, then the day will end with debates about affordable care models such as remote diagnosis via mobile health technology to reduce the burden of payment on the patient," Page says.

In addition to debates and exhibits, Arab Health also bestows awards in nine different categories to medical centers and providers, including excellence in imaging, surgery, patient-centered care and patient safety. This year, Arab Health had more than 150 nominations mostly from the United Arab Emirates, Saudi Arabia and Qatar as well as Bahrain, Jordan, Kuwait, Iran and Yemen. "Arab Health Awards celebrate and reward outstanding institutions and individual achievements that have contributed to the growth and development of the Middle East health care industry," says Page. "Last year's winners were from Saudi Arabia, Dubai and Qatar."

A new award being introduced this year is the sustainable hospitals award.

The Middle East and beyond
MEDLAB, a medical laboratory and technology event, is one of the most popular elements of Arab Health, attract ing more than 15 percent of the event's total visitors in 2012. It has become the largest laboratory and technology event in the Middle East, Page says, giving attendees the chance to learn about the latest laboratory technologies and make deals with exhibitors. Attendance at MEDLAB has jumped 256 percent in the last five years.

Thanks to its popularity, Arab Health has expanded MEDLAB into additional events in Johannesburg, Singapore and Nigeria that will take place in 2013. That expansion fits in well with one of Arab Health's chief goals: to connect health care professionals with burgeoning markets around the world, Page says.

"Ongoing efforts are made to identify which territories are poised for health care expansion and how we can assist the Arab Health clients with establishing a reputation within these countries," says Page. The organization hosted conferences in several African countries over the last year, including Cairo, Egypt and Lagos, Nigeria.

As for the annual exhibition and congress, Page predicts even more exhibitors, delegates, speakers and visitors as the size of the exhibition and the number of conferences continues to grow.